Blackathon is one of our favorite read-a-thons of the year, and this month it's back for round four! Created by BookTuber Jesse from Bowties & Books, #Blackathon2021 centers books and works by Black and African American authors and creators throughout February.
You can participate across YouTube, Instagram, and Twitter, so check out the Blackathon Twitter for more info on how you can do so! And don't forget to watch Jesse's announcement video:
Jesse shared with us why they created a travel theme for #Blackathon2021:
Blackathon has operated for 2 beautiful years now; for 2021 I wanted to see more emphasis on Black Joy and less emphasis on books that center Black trauma. Trauma narratives matter, but our jubilation is equally momentous. Too often, Black narratives only seem to matter to non-Black readers and the publishing industry when centering "the Black experience". Our books are not growing instruments designed to usher non-Black readers to enlightenment. With the collective racial-trauma Black folks endured in 2020, it was critical to me that Blackathon have a "travel" theme for 2021. It reminds our allies that there is more to our stories than subjugation. More importantly, it empowers Black readers to find narratives where they depart for a grand adventure and see new sights; these books matter now more than ever as it is especially unsafe for Black folks to travel. Black joy is part of Black Lives Matter. Travel narratives are life saving, inspiring, and critical tools for Black escapism from a world intent on crushing us. It is my hope that Blackathon helps connect all types of readers to these narratives – they matter.
Jesse is also joined by a number of other Black bookish creators as this year's Blackathon hosts! Jesse is the BookTube host for Team Thriller/Horror.
Ashley from Bookish Realm is the BookTube host for Team Lit/Contemporary/Nonfiction:
And Lauryn from The Novel Lush is the BookTube host for Team SFF:
Over on Bookstagram, Starlah from @starlahreads is the Bookstagram host for Team SFF:
Cindy from @bookofcinz is the Bookstagram host for Team Lit/Contemporary/Nonfiction:
And Nina from @the_wandering_reader and Chanelle from @chanlletime are the Bookstagram co-hosts for Team Thriller/Horror!
We're so glad that #Blackathon2021 is here, and we have some suggestions for books to read for the read-a-thon!
Sixteen tales by bestselling and award-winning authors that explore the Black experience through fantasy, science fiction, and magic. With stories by: Elizabeth Acevedo, Amerie, Patrice Caldwell, Dhonielle Clayton, J. Marcelle Corrie, Somaiya Daud, Charlotte Nicole Davis, Justina Ireland, Alaya Dawn Johnson, Danny Lore, L. L. McKinney, Danielle Paige, Rebecca Roanhorse, Karen Strong, Ashley Woodfolk, and Ibi Zoboi.
Evoking Beyoncé's Lemonade for a teen audience, these authors who are truly Octavia Butler's heirs, have woven worlds to create a stunning narrative that centers Black women and gender nonconforming individuals. A Phoenix First Must Burn will take you on a journey from folktales retold to futuristic societies and everything in between. Filled with stories of love and betrayal, strength and resistance, this collection contains an array of complex and true-to-life characters in which you cannot help but see yourself reflected. Witches and scientists, sisters and lovers, priestesses and rebels: the heroines of A Phoenix First Must Burn shine brightly. You will never forget them.

The saga of the Logan family–made famous in the Newbery Medal-winning Roll of Thunder, Hear My Cry–concludes in a long-awaited and deeply fulfilling story.
In her tenth book, Mildred Taylor completes her sweeping saga about the Logan family of Mississippi, which is also the story of the civil rights movement in America of the 20th century. Cassie Logan, first met in Song of the Trees and Roll of Thunder, Hear My Cry, is a young woman now, searching for her place in the world, a journey that takes her from Toledo to California, to law school in Boston, and, ultimately, in the 60s, home to Mississippi
to participate in voter registration. She is witness to the now-historic events of the century: the Great Migration north, the rise of the civil rights movement, preceded and precipitated by the racist society of America, and the often violent confrontations that brought about change. Rich, compelling storytelling is Ms. Taylor's hallmark, and she fulfills expectations as she brings to a close the stirring family story that has absorbed her for over forty years. It is a story she was born to tell. 

Candice Iloh weaves the key moments of Ada's young life—her mother's descent into addiction, her father's attempts to create a home for his American daughter more like the one he knew in Nigeria, her first year at a historically black college—into a luminous and inspiring verse novel.
"Candice Iloh's beautifully crafted narrative about family, belonging, sexuality, and telling our deepest truths in order to be whole is at once immensely readable and ultimately healing."—Jacqueline Woodson, New York Times Bestselling Author of Brown Girl Dreaming
"An essential—and emotionally gripping and masterfully written and compulsively readable—addition to the coming-of-age canon."—Nic Stone, New York Times Bestselling Author of Dear Martin
"This is a story about the sometimes toxic and heavy expectations set onthe backs of first-generation children, the pressures woven into the familydynamic, culturally and socially. About childhood secrets with sharp teeth. And ultimately, about a liberation that taunts every young person." —Jason Reynolds, New York Times Bestselling Author of Long Way Down

In this powerful and hopeful account, arts writer, curator, and activist Kimberly Drew reminds us that the art world has space not just for the elite, but for everyone.
Pocket Change Collective is a series of small books with big ideas from today's leading activists and artists. In this installment, arts writer and co-editor of Black Futures Kimberly Drew shows us that art and protest are inextricably linked. Drawing on her personal experience through art toward activism, Drew challenges us to create space for the change that we want to see in the world. Because there really is so much more space than we think.
"Drew's experience teaches us to embrace what we are afraid of and be true to ourselves. She uses her passion to change the art world and invites us to join her."–Janelle Monáe, award-winning singer, actress, and producer"Powerful and compelling, this book gives us the courage to discover our own journeys into art."–Hans Ulrich Obrist, artistic director of the Serpentine Galleries in Kensington Gardens, and co-editor of the Cahiers d'Art review"This deeply personal and boldly political offering inspires and ignites."– Kirkus Reviews, starred review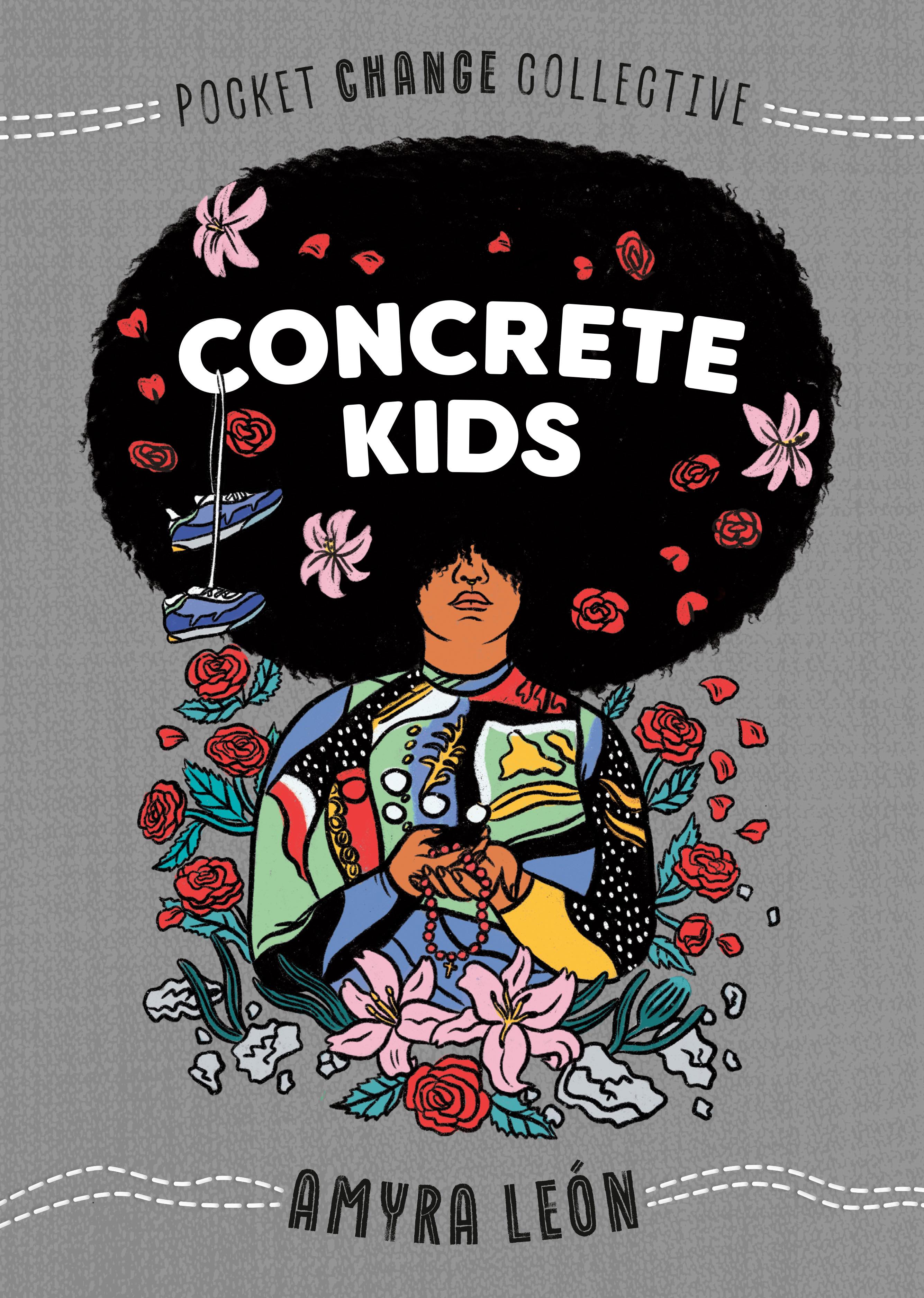 In Concrete Kids, playwright, musician, and educator Amyra León uses free verse to challenge us to dream beyond our circumstances — and sometimes even despite them.
Pocket Change Collective is a series of small books with big ideas from today's leading activists and artists.Concrete Kids is an exploration of love and loss, melody and bloodshed. Musician, playwright, and educator Amyra León takes us on a poetic journey through her childhood in Harlem, as she navigates the intricacies of foster care, mourning, self-love, and resilience. In her signature free-verse style, she invites us all to dream with abandon–and to recognize the privilege it is to dream at all.

An enthralling debut perfect for fans of Children of Blood and Bone set in a North African-inspired fantasy world where two sisters must fight to the death to win the crown. Sixteen-year-old Eva is a princess, born with the magick of blood and marrow–a dark and terrible magick that hasn't been seen for generations in the vibrant but fractured country of Myre. Its last known practitioner was Queen Raina, who toppled the native khimaer royalty and massacred thousands, including her own sister, eight generations ago, thus beginning the Rival Heir tradition. Living in Raina's long and dark shadow, Eva must now face her older sister, Isa, in a battle to the death if she hopes to ascend to the Ivory Throne–because in the Queendom of Myre only the strongest, most ruthless rulers survive.When Eva is attacked by an assassin just weeks before the battle with her sister, she discovers there is more to the attempt on her life than meets the eye–and it isn't just her sister who wants to see her dead. As tensions escalate, Eva is forced to turn to a fey instructor of mythic proportions and a mysterious and handsome khimaer prince for help in growing her magick into something to fear. Because despite the love she still has for her sister, Eva will have to choose: Isa's death or her own.A River of Royal Blood is an enthralling debut set in a lush North African inspired fantasy world that subtly but powerfully challenges our notions of power, history, and identity.

A Coretta Scott King Honor Book
Told in two distinct and irresistible voices, Junauda Petrus's bold and lyrical debut is the story of two black girls from very different backgrounds finding love and happiness in a world that seems determined to deny them both.
Port of Spain, Trinidad. Sixteen-year-old Audre is despondent, having just found out she's going to be sent to live in America with her father because her strictly religious mother caught her with her secret girlfriend, the pastor's daughter. Audre's grandmother Queenie (a former dancer who drives a white convertible Cadillac and who has a few secrets of her own) tries to reassure her granddaughter that she won't lose her roots, not even in some place called Minneapolis. "America have dey spirits too, believe me," she tells Audre.
Minneapolis, USA. Sixteen-year-old Mabel is lying on her bed, staring at the ceiling and trying to figure out why she feels the way she feels–about her ex Terrell, about her girl Jada and that moment they had in the woods, and about the vague feeling of illness that's plagued her all summer. Mabel's reverie is cut short when her father announces that his best friend and his just-arrived-from-Trinidad daughter are coming for dinner.
Mabel quickly falls hard for Audre and is determined to take care of her as she tries to navigate an American high school. But their romance takes a turn when test results reveal exactly why Mabel has been feeling low-key sick all summer and suddenly it's Audre who is caring for Mabel as she faces a deeply uncertain future.Junauda Petrus's debut brilliantly captures the distinctly lush and lyrical voices of Mabel and Audre as they conjure a love that is stronger than hatred, prison, and death and as vast as the blackness between the stars.
WAR GIRLS by Tochi Onyebuchi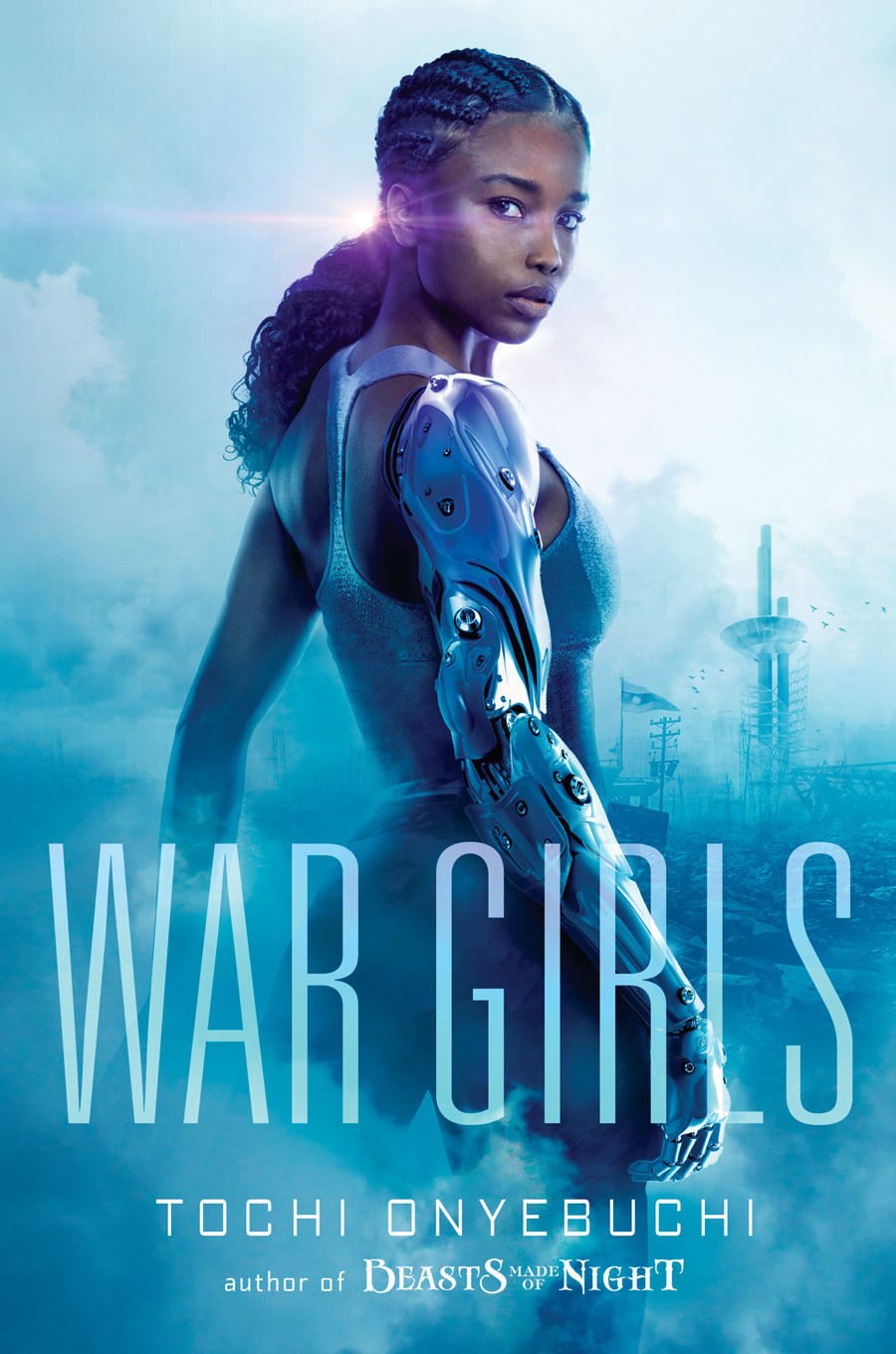 Two sisters are torn apart by war and must fight their way back to each other in a futuristic, Black Panther-inspired Nigeria. The year is 2172. Climate change and nuclear disasters have rendered much of earth unlivable. Only the lucky ones have escaped to space colonies in the sky.In a war-torn Nigeria, battles are fought using flying, deadly mechs and soldiers are outfitted with bionic limbs and artificial organs meant to protect them from the harsh, radiation-heavy climate. Across the nation, as the years-long civil war wages on, survival becomes the only way of life.Two sisters, Onyii and Ify, dream of more. Their lives have been marked by violence and political unrest. Still, they dream of peace, of hope, of a future together.And they're willing to fight an entire war to get there.Acclaimed author, Tochi Onyebuchi, has written an immersive, action-packed, deeply personal novel perfect for fans of Nnedi Okorafor, Marie Lu, and Paolo Bacigalupi.

In the epic, action-packed sequel to the "brilliant" (Booklist, starred review) novel War Girls, the battles are over, but the fight for justice has just begun. It's been five years since the Biafran War ended. Ify is now nineteen and living where she's always dreamed–the Space Colonies. She is a respected, high-ranking medical officer and has dedicated her life to helping refugees like herself rebuild in the Colonies.Back in the still devastated Nigeria, Uzo, a young synth, is helping an aid worker, Xifeng, recover images and details of the war held in the technology of destroyed androids. Uzo, Xifeng, and the rest of their team are working to preserve memories of the many lives lost, despite the government's best efforts to eradicate any signs that the war ever happened.Though they are working toward common goals of helping those who suffered, Ify and Uzo are worlds apart. But when a mysterious virus breaks out among the children in the Space Colonies, their paths collide. Ify makes it her mission to figure out what's causing the deadly disease. And doing so means going back to the homeland she thought she'd left behind forever.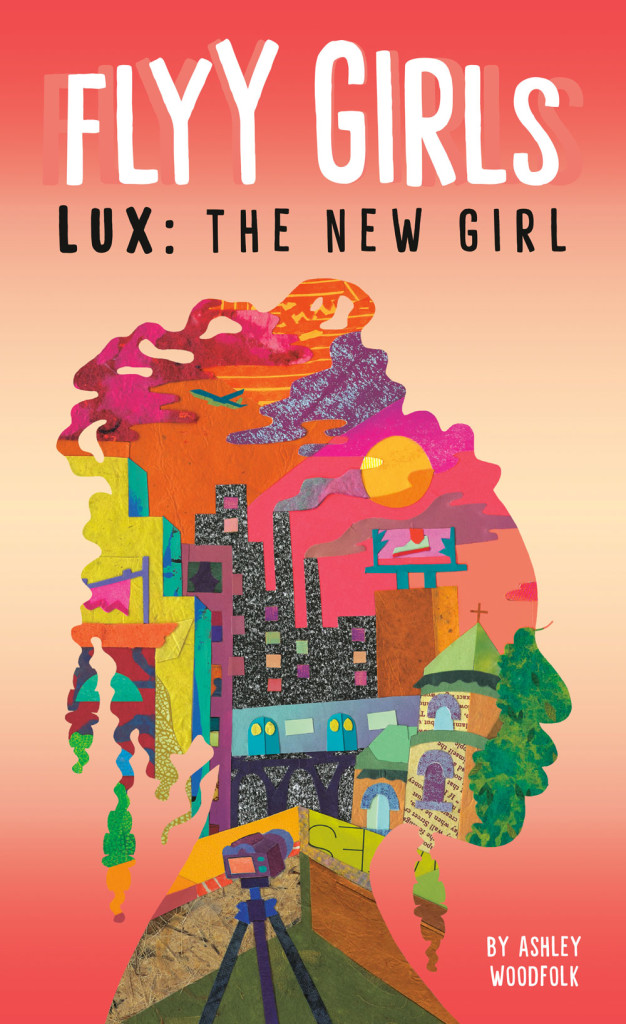 Meet the Flyy Girls. The group of girls who seem like they can get away with anything. Veteran author Ashley Woodfolk pens a gorgeous and dynamic series of four Harlem highschoolers, each facing a crossroads of friendship, family, and love.
About the book: Lux Lawson is on a spree. Ever since her dad left, she's been kicked out of every school that would take her, and this is her last chance: Harlem's Augusta Savage School of the Arts. If this doesn't work, Lux is off to military school, no questions asked. That means no more acting out, no more fights, and definitely no boyfriends. Focus on her photography, and make nice friends. That's the deal.
Enter the Flyy Girls, three students who have it all together. The type of girls Lux needs to be friends with to stay out of trouble. And after charming her way into the group, Lux feels she's on the right track. But every group has their secrets, including Lux. And when the past starts catching up with her, can she keep her place as a Flyy Girl?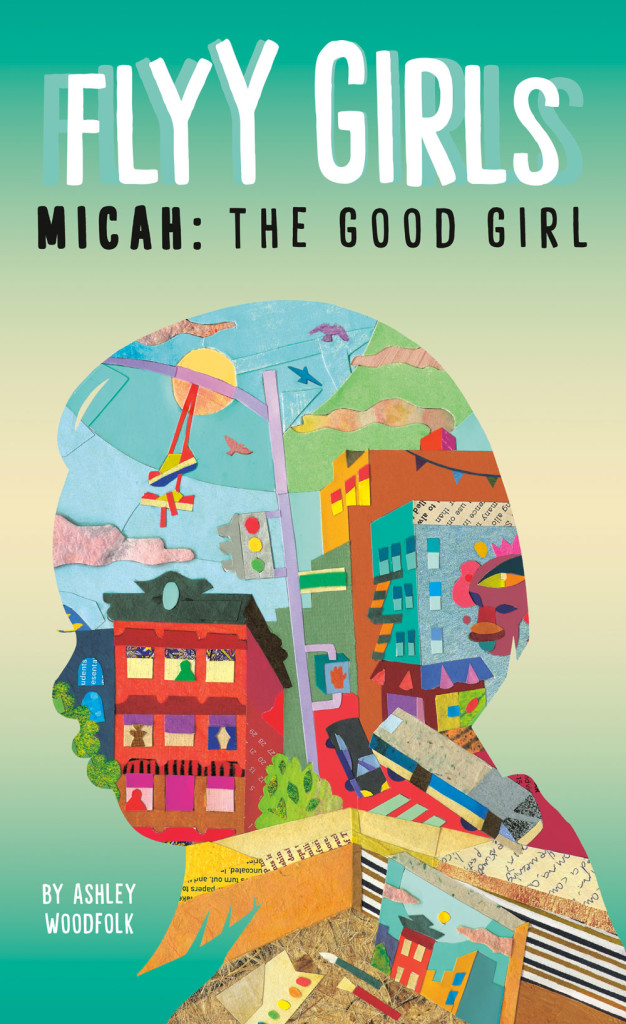 Meet the Flyy Girls. The group of girls who seem like they can get away with anything. Veteran author Ashley Woodfolk pens a gorgeous and dynamic series of four Harlem highschoolers, each facing a crossroads of friendship, family, and love.
About the book: Micah Dupree had always liked being the "good girl." She was happy painting, going to church, and acing her school projects. After all, she had a perfect older brother to live up to. But when he unexpectedly dies, Micah's world is turned upside-down. With her anxiety growing, a serious boyfriend in the picture, and new feelings emerging, Micah begins to question what being the "good girl" really means…and if it's worth it, anyway.

The heartbreaking story of five generations of young people from a single African-and-American family pursuing an elusive dream of freedom.Dream Country begins in suburban Minneapolis at the moment when seventeen-year-old Kollie Flomo begins to crack under the strain of his life as a Liberian refugee. He's exhausted by being at once too black and not black enough for his African American peers and worn down by the expectations of his own Liberian family and community. When his frustration finally spills into violence and his parents send him back to Monrovia to reform school, the story shifts. Like Kollie, readers travel back to Liberia, but also back in time, to the early twentieth century and the point of view of Togar Somah, an eighteen-year-old indigenous Liberian on the run from government militias that would force him to work the plantations of the Congo people, descendants of the African American slaves who colonized Liberia almost a century earlier. When Togar's section draws to a shocking close, the novel jumps again, back to America in 1827, to the children of Yasmine Wright, who leave a Virginia plantation with their mother for Liberia, where they're promised freedom and a chance at self-determination by the American Colonization Society. The Wrights begin their section by fleeing the whip and by its close, they are then the ones who wield it. With each new section, the novel uncovers fresh hope and resonating heartbreak, all based on historical fact.In Dream Country, Shannon Gibney spins a riveting tale of the nightmarish spiral of death and exile connecting America and Africa, and of how one determined young dreamer tries to break free and gain control of her destiny.

A lyrical story of star-crossed love perfect for readers of The Hate U Give, by National Ambassador for Children's Literature Jacqueline Woodson–now celebrating its twentieth anniversary, and including a new preface by the author
Jeremiah feels good inside his own skin. That is, when he's in his own Brooklyn neighborhood. But now he's going to be attending a fancy prep school in Manhattan, and black teenage boys don't exactly fit in there. So it's a surprise when he meets Ellie the first week of school. In one frozen moment their eyes lock, and after that they know they fit together–even though she's Jewish and he's black. Their worlds are so different, but to them that's not what matters. Too bad the rest of the world has to get in their way.

Affectionately dubbed "the Nigerian Harry Potter," Akata Witch weaves together a heart-pounding tale of magic, mystery, and finding one's place in the world. Perfect for fans of Children of Blood and Bone.
Sunny Nwazue lives in Nigeria, but she was born in New York City. Her features are West African, but she's albino. She's a terrific athlete, but can't go out into the sun to play soccer. There seems to be no place where she fits in. And then she discovers something amazing—she is a "free agent" with latent magical power. And she has a lot of catching up to do.
Soon she's part of a quartet of magic students, studying the visible and invisible, learning to change reality. But as she's finding her footing, Sunny and her friends are asked by the magical authorities to help track down a career criminal who knows magic, too. Will their training be enough to help them combat a threat whose powers greatly outnumber theirs?
World Fantasy Award-winning author Nnedi Okorafor blends magic and adventure to create a lush world.

Flygirl by Sherri L. Smith

All Ida Mae Jones wants to do is fly. Her daddy was a pilot, and years after his death she feels closest to him when she's in the air. But as a young black woman in 1940s Louisiana, she knows the sky is off limits to her, until America enters World War II, and the Army forms the WASP-Women Airforce Service Pilots. Ida has a chance to fulfill her dream if she's willing to use her light skin to pass as a white girl. She wants to fly more than anything, but Ida soon learns that denying one's self and family is a heavy burden, and ultimately it's not what you do but who you are that's most important.
See how you can participate in #Blackathon2021!