Chicago Review of Books is excited to feature the cover reveal of Armen Davoudian's debut poetry collection, The Palace of Forty Pillars, out on March 19, 2024 with Tin House Books!
Regarded as a "brilliant and deft and heartfelt" collection by A Hundred Lovers author Richie Hoffman and praised for its images that "embody a psychological web of forces that shape the self as it accrues the complexities of experience" by Pulitzer Prize-winning author Peter Balakian, The Palace of Forty Pillars is a lyrical celebration of homeland, queerness, and art.
Here's how Tin House Books describes the book:
Wry, tender, and formally innovative, Armen Davoudian's debut poetry collection, The Palace of Forty Pillars, tells the story of a self estranged from the world around him as a gay adolescent, an Armenian in Iran, and an immigrant in America. It is a story darkened by the long shadow of global tragedies—the Armenian genocide, war in the Middle East, the specter of homophobia. With masterful attention to rhyme and meter, these poems also carefully witness the most intimate encounters: the awkward distance between mother and son getting ready in the morning, the delicate balance of power between lovers, a tense exchange with the morality police in Iran.
In Isfahan, Iran, the eponymous palace has only twenty pillars—but, reflected in its courtyard pool, they become forty. This is the gamble of Davoudian's magical, ruminative poems: to recreate, in art's reflection, a home for the speaker, who is unable to return to it in life.
Now, here's your first look at the cover of The Palace of Forty Pillars, designed by Beth Steidle, Tin House Director of Design and Production using art from Adobe Stock/ Anton Ivanov Photo: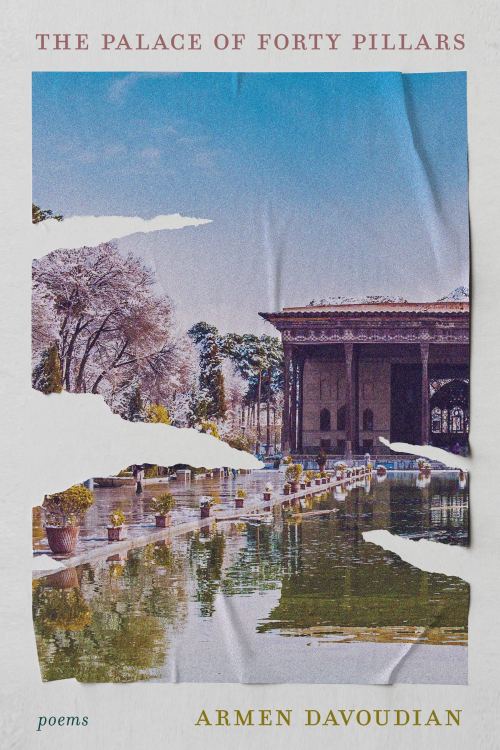 POETRY
The Palace of Forty Pillars
By Armen Davoudian
Tin House Books
March 19, 2024
About Armen Davoudian:
Armen Davoudian has an MFA from Johns Hopkins University and is currently a PhD candidate in English at Stanford University. His poems and translations from Persian appear in Poetry magazine, the Hopkins Review, the Yale Review, and elsewhere. His chapbook, Swan Song, won the Frost Place Competition. Armen grew up in Isfahan, Iran, and lives in California. Follow him on IG: @armendavoudian.