There's something distinctly aspirational about the titles of Lydia Kiesling's two novels thus far. If judging on that alone, you'd be forgiven for missing their satirical bent. First was The Golden State in 2018, which bears the nickname of its California setting, but whose story of a young mother searching for a haven for her baby daughter feels far removed from the Hollywood heights and hippie hedonism we often associate with it. Now comes Mobility, which follows the coming of age of Bunny Glenn from her childhood as a globetrotting State Department brat to her decades-long career with a Texas oil company, an accidental upward trajectory in an industry where compromise can look a lot like complicity. Deftly barreling (pun absolutely intended) from the mid '90s to a far-flung future, it induces whiplash in the same way a life does: unexpectedly. It also might just end up being one of the defining novels about millennial malaise at the dawn of this staggering new century.
I had the privilege of conducting this interview with Lydia over email. I hope you find the exchange as generous and thought-provoking as I did.
Sara Batkie
What was the first seed of this book?
Lydia Kiesling
I knew I wanted to write about a teenage girl living somewhere unfamiliar. I grew up in the foreign service and like many people who are arriving at middle age I spent a lot of my thirties reevaluating earlier time periods and experiences. I wasn't sure what the overarching idea of the book would be, but I started out with a bored teenager, thinking about the way her specific adolescent experience might inform her ideas about home and adulthood.
Sara Batkie
The novel begins in 1998. What was it like to revisit and write about that era? Was there anything that surprised you?
Lydia Kiesling
The very early days of the War on Terror, which started pre-9/11, are a sort of subterranean motif in the novel. When I was reading about it I learned a lot of things I didn't know about the late '90s and aughts and the horrendous violations that were taking place then. Some of those things I could have known at the time but chose to tune out, and had the privilege of doing so; some of those things came to light in later years. Beyond that, maybe not so much that surprised as me as sort of reminded me in force how bad things were in mainstream American culture in the way media engaged with gender, race, sexuality, nationality. Obviously all of those subjects are still very much contested today, and there is still plenty of awful discourse, but there has been a lot of change.
Sara Batkie
We follow lead character Bunny across decades, a very different time span from Daphne in The Golden State. What challenges did this present to you as a writer? Did it change your approach to the novel at all?
Lydia Kiesling
The Golden State was a totally voice-driven novel, in part because I was so uncertain about the plot that I relied a lot on the voice to see me through. It's first person and very stream-of-consciousness. I knew that I wanted to write my next book in the third person, and it turned out to be very difficult to arrive at what, or who, the third person even was. In the first pieces of the book that I wrote the tone was very arch and stilted and somehow rushed. I started the book over several times primarily to solve that narrative voice problem. I had to fumble forward simultaneously on the level of craft and theme to figure out what kind of book it was even going to be. So I didn't know it would span a lot of time until I realized I didn't have so much a story I wanted to tell as a person and set of circumstances I wanted to describe. Ultimately that was sort of the problem with The Golden State too—not story, only situation—but I solved that problem with voice, and this one with time! The passing of a large amount of time immediately adds a layer of significance to a narrative that might not be there otherwise.
Sara Batkie
One thing I found really interesting about Bunny is that she's very conscious and envious of the ways that men move through the world. It makes sense that she'd go into a male-dominated field. There are still a lot of those out there, so what made you choose the oil industry?
Lydia Kiesling
The oil industry is, I won't say uniquely, but male-dominated to an extent that I think is unusual even among male-dominated professions. Several years ago when other fields were attempting to talk more expansively, albeit sometimes performatively, about equity and diversity, the oil and gas industry, at least from my very outsider viewpoint, was still speaking of diversity as "has some women." The sociologist Christine Williams has an excellent book about this subject called Gaslighted, which was really helpful to me. And the narrative of oil—at least one very dominant narrative of oil—has a sort of swashbuckling adventure quality to it that is very tied to dominance, expansion, and masculinity. Early in the writing process I read a book by Steve LeVine called The Oil and the Glory, which did a very good job describing the wrestling match for Caspian oil reserves following the dissolution of the Soviet Union. It struck me so often while reading that book how much of a man's story it was—at least in the way it is commonly told.
Sara Batkie
This is also a great novel about office work, the drudgery it can entail and what that can make us complicit in. I feel like that's still a rare topic to tackle in literary fiction. What made you want to write about this aspect of American life? Why do you think so few writers these days focus on it?
Lydia Kiesling
I am obsessed with depicting work experiences in fiction, especially women's work experiences, whether that work is domestic or outside of the home. I wrote an essay for The New Yorker website in 2016 about office fiction by women and it sent me on this big hunt for those kinds of books. My work experiences have mostly been white-collar and many of them have been offices, and it was very interesting to me to capture the particular nebulous nature of that kind of work—how it feels, how to think about it, what it looks like to spend a day in that space. But all work novels are interesting to me, just the way I love hearing people describe their jobs in real life—most jobs are incredibly opaque, whether they take place on a computer or in some challenging physical space. A novel that came out a few years ago called Bright and Dangerous Objects by Anneliese Mackintosh follows a woman who is a deep sea welder for oil rigs, and it's a phenomenal novel and also really makes vivid this very singular work experience. I love job books! Work is how so many of us spend the day and yet it is often so hard to describe its physicality as well as its larger stakes.
Sara Batkie
This is an up-to-the-minute novel, almost literally so. Did that involve a lot of last-minute changes on your part as you prepared for publication?
Lydia Kiesling
So many, and in fact I had to be told sternly to take a bunch of them out. At some point you just have to stop writing into the present. Of course there is so much of the past that isn't written into the novel too—but it feels harder to edit or redact the present as it piles up. I could feel myself trying to stuff every headline into the book during the second edit. I had to unstuff it, to keep its level of knowledge feeling authentic to its protagonist and her worldview—I only wanted to gesture beyond that worldview, not necessarily put neon signs everywhere. But it is hard not to.
Sara Batkie
Without spoiling, this novel ends in a very different time and place than where it begins. Did you always have this ending in mind as you were writing or did it change somewhere along the line?
Lydia Kiesling
Before the pandemic, when Mobility was still pretty embryonic, I had written what I thought was a completely unrelated little vignette about someone older than me who originally moves to Portland basically to achieve greater financial security, and then watches in the present day as her adult daughter flails and doesn't achieve or aspire to the same life as her mom, a veteran of '90s corporate life. I set it aside for a long time—it was only a few thousand words. When I was nearing the finish line for Mobility but had no idea what the finish actually was, I found and repurposed it. I was leery of doing some doomfilled futurecast because it felt too on the nose, but then it actually became very important to me as a way to close out the book.
Sara Batkie
Jumping out to a couple bigger picture questions: this is your second novel. How has the publishing experience differed this time around from your debut?
Lydia Kiesling
I have blocked some of the pre-pub period for TGS, but I think I naively felt more pure excitement at that time, but then really had a big emotional crash a few months after the book came out. This time I feel sort of preemptively tired, and more jumpy than I thought I would, maybe because I know more about what to expect and remember the low period that followed publishing TGS. But also we're coming out of (or still in) the bewildering and exhausting Covid era, and I think or hope I have some perspective on the fact that we have so little control over anything. I try to remind myself to just be excited, because it is something I worked on for a long time.
Sara Batkie
What's next for you?
Lydia Kiesling
I would love to write another novel, and I have one brewing, although I have yet to set anything to paper yet. I'm giving myself a little break to stew over the last few years and see what emerges when I finally do sit down to write. But I don't think it will be as research-intensive as this book was!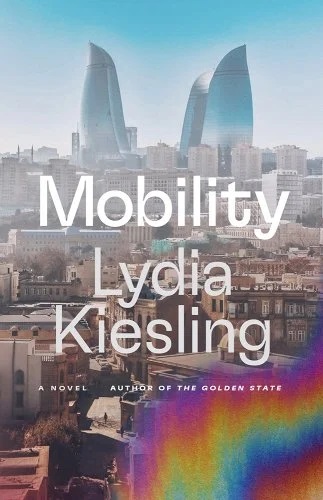 FICTION
Mobility
By Lydia Kiesling
Crooked Media Reads
Published August 1, 2023