In her new novel The Possibilities, Yael Goldstein-Love draws on neuroscience, quantum theory, and her background as a therapist to communicate the disorienting, terrifying experience of new motherhood. From the opening description of a traumatic birth in which it is not clear whether the child survives, this compelling and surreal narrative forces the reader to navigate a layered, labyrinthine world. When the protagonist Hannah realizes that her son has vanished, she travels through a multiverse, questioning her perception and unsure of whom she can trust.
I spoke with Goldstein-Love about the fear that accompanies parenthood, the neurological changes rendered by caretaking, and the emerging canon of motherhood literature.
This interview has been edited for length and clarity.
Victoria Livingstone
You cover so much ground in this book! I'd like to begin with a few questions on how society views mothers. At one point, one of the characters asks why everyone is "so invested in idealizing motherhood while shitting on actual mothers."
Yael Goldstein-Love
We venerate motherhood, but we love criticizing actual mothers. Before I was a mother, I thought of this exclusively in terms of sexism and patriarchy. Sexism plays a huge role, of course, but it is so much more complicated. Each of us feels we didn't get everything we wanted from our mother. In fact, it's impossible to get everything you want from your mother, so we get angry at the way she's failed us. I'm interested in the tension between the ways in which our society makes mothering so hard—the sociological factors—and these deep psychological concerns.
Victoria Livingstone
The characters at one point discuss the term "mom brain," a phrase I have always hated. I see this book as a way of reframing the neurological changes in a mother's brain—putting them in a more positive light. The epigraph is from Adrian LaFrance, who has written about this topic for The Atlantic.
Yael Goldstein-Love
We share a hatred of the term "mom brain" or even worse, "mommy brain." Judged by the standards of your brain pre-children, it can seem that a mother's brain is suboptimal, but in fact it's been optimized for exactly the task that it's doing. So much of a mother's attention is focused on the all-important task of keeping a new human alive. You're laying the foundation for how a person will understand the world for the rest of their days. You lend a child your mind in the same way you lend your body during pregnancy. Caretaking leads to these neurological changes. The brains of adoptive parents and fathers who do just as much caretaking show the same patterns of change as someone who gave birth. So, sure, you might put your cell phone in the silverware drawer and not know it's there for two days like I did when my child was little, but you're doing more important things.
Victoria Livingstone
Throughout my pregnancy, I feared that motherhood would mean giving up my intellectual and creative life. Instead, it has enriched my creative life and shifted my perception of productivity. My daughter is three, so I spend a lot of time playing Candyland or doing jigsaw puzzles. These activities have made me more open to other tasks that are not seen as productive—like creative work.
Yael Goldstein-Love
Play is so important! In the past, I would have thought, I'm not being productive, I'm not putting words on the page, but now play feels so rich. I see how my child works out the biggest things through play and I think, I need to play!
Victoria Livingstone
We could talk so much about this, but I want to ask you about your work as a psychotherapist and researcher. You're working on your doctorate.
Yael Goldstein-Love
I trained as a psychotherapist, got a masters and then worked with people with severe mental illness. My dissertation is done, and I'm opening a private practice this fall.
Victoria Livingstone
Did your work with people with severe mental illness influence your writing of certain characters?
Yael Goldstein-Love
Probably. In the beginning of the book, Hannah is unsure whether she is losing contact with reality or whether reality is just crazier than she thought. That would have been harder to write had I not been so familiar with how psychosis tends to manifest.
Victoria Livingstone
How did your experience as a researcher shape The Possibilities?
Yael Goldstein-Love
My dissertation deals with how mothers experience their children's uncertain future. I wrote my dissertation after I wrote The Possibilities, but I was deeply immersed in the literature review for my doctorate when I was working on the novel. I was reading Julia Kristeva, Joan Raphael-Leff, and Rozsika Parker—all analyze the psychology of maternal experience. Their writing helped me crystallize parts of my novel.
Victoria Livingstone
Do you want to talk about your own postpartum experience?
Yael Goldstein-Love
In the opening scene of the book, it's not clear whether the child will live or die. That was my child's birth. I had no idea whether I was taking a baby home or whether I was in the midst of a tragedy. When I took him home, he was healthy, but I felt like I was living in two realities simultaneously: the reality in which he lived and the reality in which he died. I felt I was going to be called on again to save him and I wasn't going to be able to. My instincts had saved my son. I insisted on the C-section, even though the doctor tried to talk me out of it. My baby wouldn't have had enough oxygen in his cord blood to make it through labor.
Victoria Livingstone
What about the parts of the book that draw on physics? And why did you choose to examine motherhood through science fiction?
Yael Goldstein-Love
I'm always really surprised when someone describes the book as science fiction. I mean, it clearly is, but it's also just motherhood! I had to figure out how to capture my stress reactions to the traumatic birth of my child.  Then I had a moment that helped me find the language for it. My son was 8 months old and we had just moved from Berkely to Washington, D.C. where I didn't know anyone. My marriage was falling apart. That day I had to take my son to the pediatrician. I got to the car, which was parked pretty far, then realized I didn't have the car keys. I wheeled the stroller back to my apartment and looked at the concrete stairs I'd have to climb—with this kid in his snowsuit. If I take him out of the stroller, he'll cry. For a second, I thought, maybe I should leave him on the sidewalk, run inside, get the key, and come right back. Then I looked at him and he laughed in this adorable, trusting way. I had this horrifying image. What if I had run inside and he disappeared? I knew that scene had to be in the book.
And my father worked with quantum mechanics. He does not believe in the Many-Worlds interpretation of quantum mechanics, but I was raised hearing about that and Everett branches and other ideas.
Victoria Livingstone
In your book, there is a strong female presence. The scientists that help the protagonist Hannah travel through other worlds are women. And Hannah finds solidarity with other mothers, even though she dismisses them at first. That resonated with me. I dreaded the thought of talking about caretaking and playgroups and preschool. When I became a mother, I realized how important domestic spaces are.
Yael Goldstein-Love
Like you, I thought of the domestic as not intellectually interesting. Then I had a baby, and I realized that this is where the most fascinating intellectual stuff is happening. If you want to understand people, watch a person come together. The amount of intellectual activity required to mother is incredible.  We have this patriarchal narrative of the hero quest, where the hero leaves the home—but life and death stakes? That's parenthood.
When my son was an infant, my breastfeeding support group was a lifeline. Parenthood is a demanding, complicated task we are thrown into with no period of training. In our modern society, we do caretaking in these weird atomized spaces and care work is so denigrated in our culture.
Victoria Livingstone
There is a recent surge of books on motherhood. Some of them, like Rachel Yoder's Nightbitch and Samanta Schweblin's Fever Dream (translated by Megan McDowell), are speculative. And then there are so many other recent books in motherhood in general. Have you thought about where your book fits into this trend?
Yael Goldstein-Love
I feel like an opening has been created, and now we're allowed to talk about motherhood differently. But there is a sort of bifurcation—books that idealize motherhood and others that focus primarily on how difficult it is. It was important to me to communicate that motherhood is both. It is both so much harder and so much more wonderful than I imagined. We all acknowledge that no two marriages are the same, right? You would never say, this is a book about marriage! Yet we do that with motherhood. In reality every motherhood experience is as varied as any romantic relationship would be.
Victoria Livingstone
There's a connection there with what you were saying earlier about the idealized experience of motherhood
Yael Goldstein-Love
Right, as though a mother isn't really a person, right? A mother is a role. There should be as many books in which the foundational relationship is between a mother and a child as there are where the central relationship is romantic. I hope to see many, many more books on this. It's not a niche topic.
Victoria Livingstone
Books on motherhood have historically been disparaged. Do you think that is changing?
Yael Goldstein-Love
No (laughs). Maybe a little bit, maybe less disparaged by other women. Men still tend to dismiss writing on motherhood, but that's probably true for all writing by women.
You also asked about the speculative elements. People think that caretaking is small, quiet, unimportant. And then when you're in it, you realize that mothering is loud and crazy. It's a ripping-through-the-fabric-of-spacetime experience. The speculative elements were a way to get that through on the page.
Victoria Livingstone
I want to talk about the characters' names. Adam, Grace, Dr. Goodman—all clearly significant. The protagonist is Hannah, which is of course a biblical and Hebrew name, but it's also a palindrome. She moves between worlds and there are references to mirrors. But Jack threw me!
Yael Goldstein-Love
The palindrome was very important to me! As for biblical references, I was raised as an Orthodox Jew. My whole sense of myself and the world came together in Old Testament stories. The biblical Hannah makes a bargain with God. She begs to keep her child, but promises to give him up to God. That, in a way, is the bargain we all make as parents. It's a metaphor for how you reconcile yourself to the absolute existential terror of loving someone this much.
And Jack—one of these things is not like the others. Every other name has a reason, but Jack—he's just Jack. It's a name that could not have fewer tendrils searching toward reasons. I wanted to communicate how astounding it is, the fact that this new person is suddenly here, someone who has never existed before.
Victoria Livingstone 
What about the toll that parenthood can take on a marriage? Hannah's marriage starts to fall apart after her son is born.
Yael Goldstein-Love 
In a way, this was the hardest part of the book to write. You have to move from a twosome to a threesome. That renegotiation is tricky no matter how solid the relationship is and then, if one parent is having a particularly hard time with the transition to parenthood, that takes an even greater toll. In the book, the reactions of Hannah and Adam to their son's birth and almost death— their reactions could not be more diametrically opposed to each other.
Victoria Livingstone
As Hannah moves between worlds, she becomes more aware of marginalized communities, especially unhoused people in Berkeley.
Yael Goldstein-Love
 In the Bay area, tent communities pop up along freeways and under overpasses and then get cleared away and suddenly they're gone. Where are these people? What did they do with them? I worked with people with severe mental illness, and almost everyone I worked with was unhoused. I think a lot about my former patients and wonder where they are, if they're still alive, what they've been through since I last saw them. It's tempting to ignore those populations because it's so painful to see people so unprotected. But if you're in a meaningful relationship with them, as I was as their therapist, you think about the richness of their lives.
For the book, I thought about the cruel contingency of life. Somehow you got a mental illness, or you were born into poverty, or were victim to a terrible concatenation of events. That's part of the terror of motherhood. We live in an unkind society where everyone is vulnerable to the cruelties of contingency.
Victoria Livingstone
The protagonist is a writer of horror, and at one point her partner tells her that she has a condition of too much seeing. In response, she reflects on the constant vigilance that parenthood demands. For you, is there a connection between that observation that parenthood requires constant hypervigilance and the observational powers needed to be a writer?
Yael Goldstein-Love
That is a great question. Not everyone feels a need to be a writer and observe in that way, but every parent has great powers of observation.
I think about the multiverse. There's so much of our own minds and our own hearts that we're not aware of, that we work hard not to be aware of, and that nonetheless affect us in profound ways. In the book, that's what these parallel worlds are. Hannah has to become more aware of aspects of herself. For me, both the act of mothering and the act of writing novels involve seeing aspects of yourself just out of view. It might mean examining my reaction to my child in a certain moment or it may be me asking myself what compels me to examine a certain theme.
Victoria Livingstone
That aligns with my experience. I also see writing as a sort of excavation, a process of making visible the previously unseen. Both The Possibilities and your first novel The Passion of Tasha Darsky deal with motherhood and artistic production. Could you say more about the connections between the books?
Yael Goldstein-Love
The Passion of Tasha Darsky is about the tension between motherhood and female ambition. I wrote that last one when I was twenty-five and had no children, so I vouch for nothing I say about motherhood in there! I do, however, vouch for everything I say about young female ambition. It grew out of a time in my life when the most pressing question for me was how much one could and should sacrifice for art, which is not the most pressing question for me anymore. I no longer think of art in terms of sacrifice and greatness. I think of it now in terms of my own personal and lifelong meaning-making project.
Victoria Livingstone
What are some books on motherhood that have influenced you?
Yael Goldstein-Love
My favorite book on motherhood is Rozsika Parker's Torn in Two. It is an incredible exploration of the psychology of motherhood. Another book that broke me open about parenthood and showed me the way toward this book was Victor LaValle's The Changeling. It's just magnificent. I read it in a perfect moment, when my son was a few weeks old,  and I thought: horror! This is the genre in which I'm existing.
Victoria Livingstone
Finally, what advice do you have for other writers who work and have children?
Yael Goldstein-Love
It helps to remember that life is long! I have the demands of parenthood, and my doctorate, my work as a therapist—and now publishing.  I have another novel I want to write. When do I do that? But things aren't always urgent. There's time. It can stew for a while.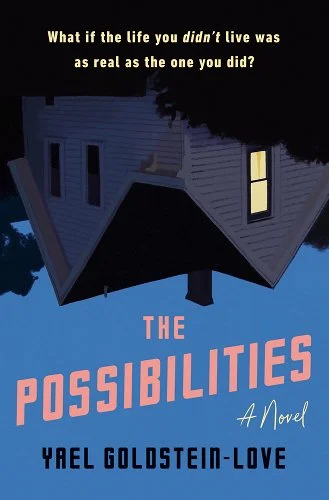 FICTION
The Possibilities
By Yael Goldstein-Love
Random House
Published July 25, 2023