We are so excited that one of our favorite John Green novels Turtles All the Way Down is on its way to our screens! Here's everything we know about the adaptation so far.
1. Hannah Marks is directing
Actress-turned-director Hannah Marks is helming from a script by Isaac Aptaker and Elizabeth Berger, best known for co-showrunning This is Us and writing the screenplay for Love, Simon. WHAT a combination!!
2. Shooting is expected to begin in April.
Meaning NOW?!
3. The cast is shaping up SO WELL!
The cast so far includes Isabela Merced, Judy Reyes, Cree Cicchino, and Felix Mallard!
4. It's time to re-read the book while we wait!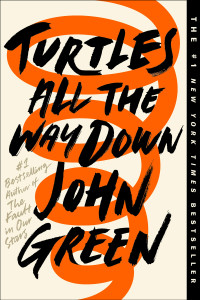 About Turtles All the Way Down: 
John Green, the award-winning, international bestselling author of The Anthropocene Reviewed, returns with a story of shattering, unflinching clarity in this brilliant novel of love, resilience, and the power of lifelong friendship.Aza Holmes never intended to pursue the disappearance of fugitive billionaire Russell Pickett, but there's a hundred-thousand-dollar reward at stake and her Best and Most Fearless Friend, Daisy, is eager to investigate. So together, they navigate the short distance and broad divides that separate them from Pickett's son Davis.Aza is trying. She is trying to be a good daughter, a good friend, a good student, and maybe even a good detective, while also living within the ever-tightening spiral of her own thoughts.