We love escaping into a fantasy world, but also love a good read to pull us back down to earth. Here's a stack of non-fiction YA books everyone should have on their shelf!
From the founder of The Cramm, a news outlet by and for the incredible Gen Z activists who are already shaping our global future (really!), this book is a dive into the history that's made the world what it is today.
You can take a stand for justice. You can raise your voice to make a difference. You can find your way to make a mark and change the world. But first—you need to know what the actual F is going on in it.
Today's world can feel like a seriously confusing mess. Headlines and newscasters and posts are coming at us from all sides, each talking about the latest issues and injustices, and everyone with their own opinion on how to solve the problems of the day. It's enough to make anyone's mind melt. Right?
Enter: Cramm This Book, your one-stop-shop for the scoop behind the scoop of the day. This is the read you need to understand everything from how the conflicts in the Middle East got going to where Black Lives Matter and Me Too actually began to what the full deal is with all of the wildfires and hurricanes we see each year. Important topics to read more about? We think so too. Dip in for more on the wars, the movements, the disasters, and more—and get to know WTF is really going on.
Are you ready to take to the streets and take on the world? Then Cramm This Book and get going.
The future is ours. What are you waiting for?
Chasing the Truth by Jodi Kantor & Megan Twohey, adapted by Ruby Shamir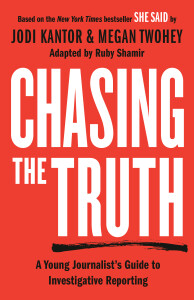 The perfect book for all student journalists, this young readers adaptation of the New York Times bestselling She Said by  Pulitzer Prize winning reporters' Jodi Kantor and Megan Twohey will inspire a new generation of young journalists.

Do you want to know how to bring secrets to light?
How journalists can hold the powerful to account?
And how to write stories that can make a difference?
In Chasing the Truth, award-winning journalists Jodi Kantor and Megan Twohey share their thoughts from their early days writing their first stories to their time as award-winning investigative journalists, offering tips and advice along the way. Adapted from their New York Times bestselling book She Said, Chasing the Truth not only tells the story of the culture-shifting Harvey Weinstein investigation, but it also shares their best reporting practices with readers. This is the perfect book for aspiring journalists or anyone devoted to uncovering the truth.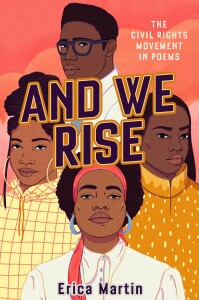 A powerful, impactful, eye-opening journey that explores through the Civil Rights Movement in 1950s-1960s America in spare and evocative verse, with historical photos interspersed throughout.
In stunning verse and vivid use of white space, Erica Martin's debut poetry collection walks readers through the Civil Rights Movement—from the well-documented events that shaped the nation's treatment of Black people, beginning with the "Separate but Equal" ruling—and introduces lesser-known figures and moments that were just as crucial to the Movement and our nation's centuries-long fight for justice and equality.
A poignant, powerful, all-too-timely collection that is both a vital history lesson and much-needed conversation starter in our modern world. Complete with historical photographs, author's note, chronology of events, research, and sources.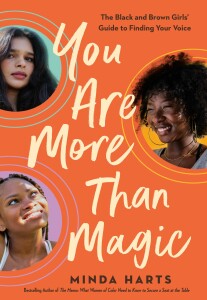 Perfect for graduation gifts and other transitional milestones, this guide is for girls of color looking to find their voice and claim space as they prepare for high school, college, and their careers, from the bestselling author of The Memo: What Women of Color Need to Know to Secure a Seat at the Table.
When you're a girl of color, figuring out how to find your voice and make sure everyone around you can hear it is essential. CEO and bestselling author Minda Harts knows—she's been there. And she's ready to walk you through it all with her own stories of success and the missteps that helped her grow—from running for high school student council when she was barely tall enough to reach the podium, to starting her own com­pany, The Memo LLC, that helps women of color advocate for themselves and their ca­reers. Now she's here to hype you up and be real with you about:
• Building your squad: what to look for in a friend, finding mentors, and setting boundaries for healthy relationships
• Saying what you mean without saying it mean: prepping yourself for self-advocacy, negotiations, and tough conversations
• Leaning into courage: affirming yourself, dealing with no's, and speaking up even when you feel like the "only one"
With lots of practical advice and real-life anecdotes, as well as questions for reflection and further resources, this book is all about finding your own unique path to success—at school, at work, at home, and beyond. Success is far from magical, but you've al­ready got the tools you need to figure out your next best moves. And your stand-in big sis Minda is here to help you every step of the way!

From New York Times bestselling author Andrew Maraniss comes the remarkable true story of Glenn Burke, a "hidden figure" in the history of sports: the inventor of the high five and the first openly gay MLB player. Perfect for fans of Steve Sheinkin and Daniel James Brown.
On October 2nd, 1977, Glenn Burke, outfielder for the Los Angeles Dodgers, made history without even swinging a bat. When his teammate Dusty Baker hit a historic home run, Glenn enthusiastically congratulated him with the first ever high five.
But Glenn also made history in another way–he was the first openly gay MLB player. While he did not come out publicly until after his playing days were over, Glenn's sexuality was known to his teammates, family, and friends. His MLB career would be cut short after only three years, but his legacy and impact on the athletic and LGBTQIA+ community would resonate for years to come.
New York Times bestselling author Andrew Maraniss tells the story of Glenn Burke: from his childhood growing up in Oakland, his journey to the MLB and the World Series, the joy in discovering who he really was, to more difficult times: facing injury, addiction, and the AIDS epidemic.
Packed with black-and-white photographs and thoroughly researched, never-before-seen details about Glenn's life, Singled Out is the fascinating story of a trailblazer in sports–and the history and culture that shaped the world around him.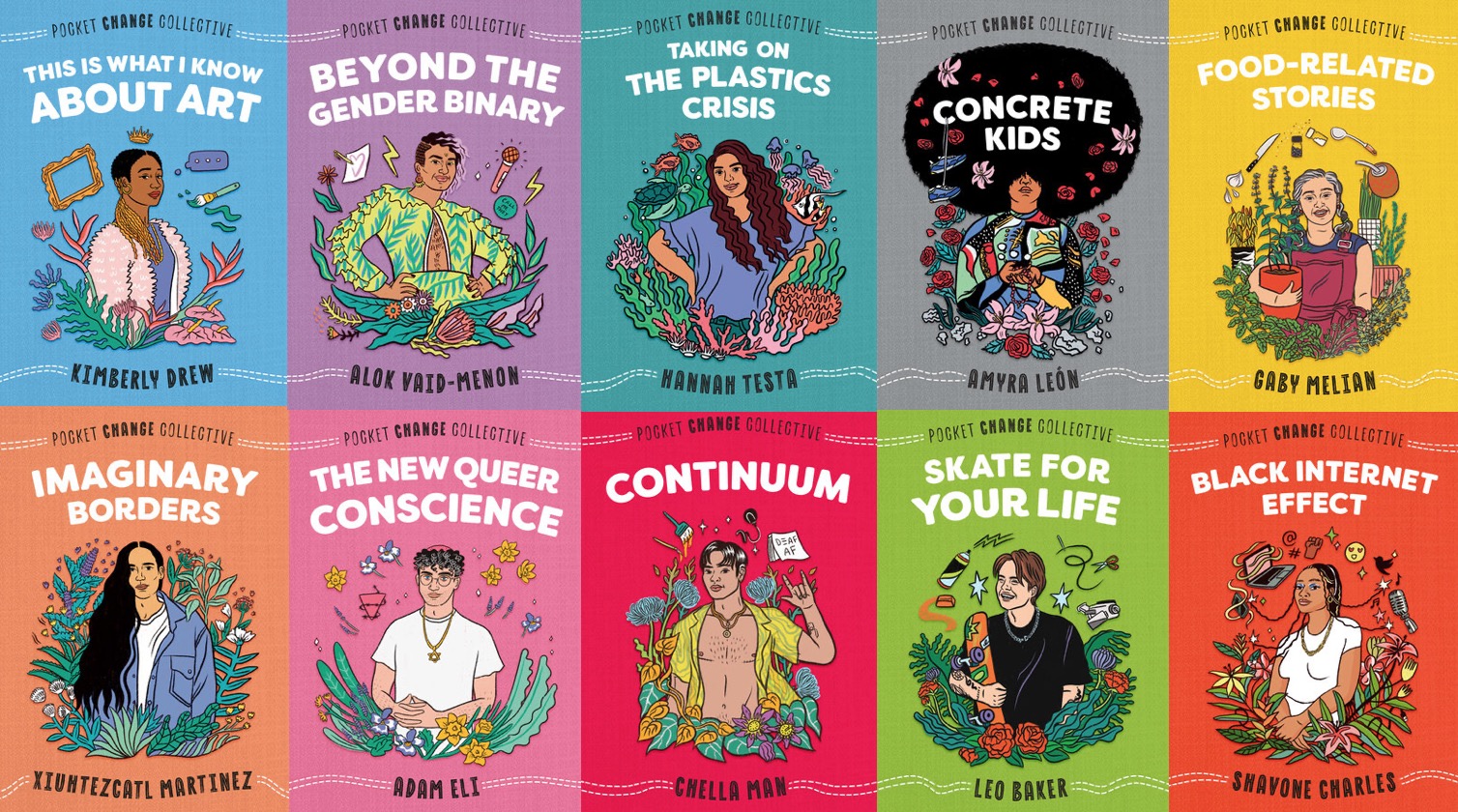 Pocket Change Collective was born out of a need for space. Space to think. Space to connect. Space to be yourself. And this is your invitation to join us. This is a series of small books with big ideas from today's leading activists and artists.
Coming Soon…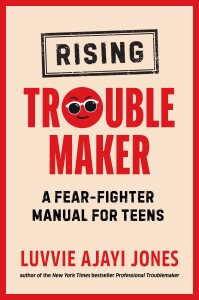 In this young readers edition of her New York Times bestseller Professional Troublemaker, Luvvie Ajayi Jones uses her honesty and humor to inspire teens to be their bravest, boldest, truest selves, in order to create a world they would be proud to live in.
The world can feel like a dumpster fire, with endless things to be afraid of. It can make you feel powerless to ask for what you need, use your voice, and show up truly as your whole self. Add the fact that often, people might make you feel like your way of showing up is TOO MUCH.
BE TOO MUCH, and use it for good. That is what it means to be a troublemaker. In this book, Luvvie Ajayi Jones – bestseller of books, sorceress of side-eyes and critic of culture – gives you the permission you might need to be the troublemaker you are, or wish to be. This is the book she needed when she was the kid who got in trouble for her mouth when she spoke up about what she felt was not fair. This is the book she needed when kids made fun of her Nigerian accent. This is the book that she needed when it was time to call herself a writer, but she was too scared.
As a Rising Troublemaker, you need to know that the beautiful, audacious life you want is on the other side of doing the things that will scare you. This book will help you face and fight your fear and start living that life ASAP.