Valentine's Day is around the corner and love is in the air! If you're on the hunt for some romance reads this swoony season, read on. From romance in Paris, to newfound love in the midst of a baking competition, there's a little of everything here!
Anna can't wait for her senior year in Atlanta, where she has a great job, a loyal best friend, and a crush on the verge of becoming more. So she's less than thrilled when her father unexpectedly ships her off to boarding school in Paris—until she meets Étienne St. Clair, the perfect boy. The only problem? He's taken, and Anna might be, too, if anything comes of her crush back home. Will a year of romantic near-misses end in the French kiss Anna awaits?

Told in two distinct and irresistible voices, Junauda Petrus's bold and lyrical debut is the story of two black girls from very different backgrounds finding love and happiness in a world that seems determined to deny them both.
Port of Spain, Trinidad. Sixteen-year-old Audre is despondent, having just found out she's going to be sent to live in America with her father because her strictly religious mother caught her with her secret girlfriend, the pastor's daughter. Audre's grandmother Queenie (a former dancer who drives a white convertible Cadillac and who has a few secrets of her own) tries to reassure her granddaughter that she won't lose her roots, not even in some place called Minneapolis. "America have dey spirits too, believe me," she tells Audre.
Minneapolis, USA. Sixteen-year-old Mabel is lying on her bed, staring at the ceiling and trying to figure out why she feels the way she feels–about her ex Terrell, about her girl Jada and that moment they had in the woods, and about the vague feeling of illness that's plagued her all summer. Mabel's reverie is cut short when her father announces that his best friend and his just-arrived-from-Trinidad daughter are coming for dinner.
Mabel quickly falls hard for Audre and is determined to take care of her as she tries to navigate an American high school. But their romance takes a turn when test results reveal exactly why Mabel has been feeling low-key sick all summer and suddenly it's Audre who is caring for Mabel as she faces a deeply uncertain future.

High school senior Keely Collins takes on firsts, lasts, and everything in between in this sweet, sex-positive rom-com for fans of Meg Cabot and Jenny Han.
It seemed like a good plan at first.
When the only other virgin in her group of friends loses it at Keely's own eighteenth birthday party, she's inspired to take things into her own hands. She wants to have that experience too (well, not exactly like that–but with someone she trusts and actually likes), so she's going to need to find the guy, and fast. Problem is, she's known all the boys in her small high school forever, and it's kinda hard to be into a guy when you watched him eat crayons in kindergarten.
So she can't believe her luck when she meets a ridiculously hot new guy named Dean. Not only does he look like he's fallen out of a classic movie poster, but he drives a motorcycle, flirts with ease, and might actually be into her.
But Dean's already in college, and Keely is convinced he'll drop her if he finds out how inexperienced she is. That's when she talks herself into a new plan: her lifelong best friend, Andrew, would never hurt or betray her, and he's clearly been with enough girls that he can show her the ropes before she goes all the way with Dean. Of course, the plan only works if Andrew and Keely stay friends–just friends–so things are about to get complicated.

Acclaimed author of Ash Malinda Lo returns with her most personal and ambitious novel yet, a gripping story of love and duty set in San Francisco's Chinatown during the 1950s.

"That book. It was about two women, and they fell in love with each other." And then Lily asked the question that had taken root in her, that was even now unfurling its leaves and demanding to be shown the sun: "Have you ever heard of such a thing?"

Seventeen-year-old Lily Hu can't remember exactly when the question took root, but the answer was in full bloom the moment she and Kathleen Miller walked under the flashing neon sign of a lesbian bar called the Telegraph Club.America in 1954 is not a safe place for two girls to fall in love, especially not in Chinatown. Red-Scare paranoia threatens everyone, including Chinese Americans like Lily. With deportation looming over her father–despite his hard-won citizenship–Lily and Kath risk everything to let their love see the light of day.

For fans of Jenny Han, Jane Austen, and The Great British Baking Show, A Taste for Love, is a delicious rom com about first love, familial expectations, and making the perfect bao. 

To her friends, high school senior Liza Yang is nearly perfect. Smart, kind, and pretty, she dreams big and never shies away from a challenge. But to her mom, Liza is anything but. Compared to her older sister Jeannie, Liza is stubborn, rebellious, and worst of all, determined to push back against all of Mrs. Yang's traditional values, especially when it comes to dating.The one thing mother and daughter do agree on is their love of baking. Mrs. Yang is the owner of Houston's popular Yin & Yang Bakery. With college just around the corner, Liza agrees to help out at the bakery's annual junior competition to prove to her mom that she's more than her rebellious tendencies once and for all. But when Liza arrives on the first day of the bake-off, she realizes there's a catch: all of the contestants are young Asian American men her mother has handpicked for Liza to date.The bachelorette situation Liza has found herself in is made even worse when she happens to be grudgingly attracted to one of the contestants; the stoic, impenetrable, annoyingly hot James Wong. As she battles against her feelings for James, and for her mother's approval, Liza begins to realize there's no tried and true recipe for love.

In this companion to the award-winning Darius the Great Is Not Okay, Darius suddenly has it all: a boyfriend, an internship, a spot on the soccer team. It's everything he's ever wanted–but what if he deserves better? 

Darius Kellner is having a bit of a year. Since his trip to Iran, a lot has changed. He's getting along with his dad, and his best friend Sohrab is only a Skype call away. Between his first boyfriend, Landon, varsity soccer practices, and an internship at his favorite tea shop, things are falling into place.Then, of course, everything changes. Darius's grandmothers are in town for a long visit, and Darius can't tell whether they even like him. The internship is not going according to plan, Sohrab isn't answering Darius's calls, and Dad is far away on business. And Darius is sure he really likes Landon . . . but he's also been hanging out with Chip Cusumano, former bully and current soccer teammate–and well, maybe he's not so sure about anything after all.Darius was just starting to feel okay, like he finally knew what it meant to be Darius Kellner. But maybe okay isn't good enough. Maybe Darius deserves better.

From the New York Times bestselling author of Frankly in Love comes a moving young adult novel about friendship, identity, and acceptance. Perfect for fans of John Green and To All the Boys I've Love Before. 

When Sunny meets Cirrus, he can't believe how cool and confident she is. So when Cirrus mistakenly thinks Sunny plays guitar, he accidentally winds up telling her he's the front man of a rock band.Before he knows it, Sunny is knee-deep in the lie: He gets his best friends to form a fake band with him and starts dressing like a rock star. But no way can he trick this amazing girl into thinking he's cool, right? Just when Sunny is about to come clean, Cirrus asks to see them play sometime. Gulp.Now there's only one thing to do: Fake it till you make it.
Time of Our Lives by Emily Wibberley and Austin Siegemund-Broka

Fitz Holton waits in fear for the day his single mother's early-onset Alzheimer's starts stealing her memory. He's vowed to stay close to home to care for her in the years to come–never mind the ridiculous college tour she's forcing him on to visit schools where he knows he'll never go. 

Juniper Ramirez is counting down the days until she can leave home, a home crowded with five younger siblings and zero privacy. Against the wishes of her tight-knit family, Juniper plans her own college tour of the East Coast with one goal: get out. When Fitz and Juniper cross paths on their first college tour in Boston, they're at odds from the moment they meet– while Juniper's dying to start a new life apart from her family, Fitz faces the sacrifices he must make for his. Their relationship sparks a deep connection–in each other's eyes, they glimpse alternate possibilities regarding the first big decision of their adult lives.

For fans of Sarah Dessen and Jenny Han, Beyond the Break is a funny and gorgeous debut about a girl experiencing her first love. Well, second, if you count her faith… and that's where things may get complicated.

Manhattan Beach native Lovette has two rules in life. One: no surfing. Not after her brother's accident. Two: absolutely, no dating. And going into her junior year of high school, she's pretty happy with that arrangement. She has friends, her church youth group, and God to fall back on when things get dicey. But after Jake Evans walks into her life, following these two simple rules gets a lot more complicated.

Jake is the boy from Lovette's childhood who grew up. Handsome and sweet, he unlocks the part of Lovette that wants nothing more than to surf the waves again. And as their relationship grows, she begins to question what it means to be faithful: to her family, to God, but mostly, to herself.

Told with humor and heart, Heather Buchta delivers a sparkling debut that asks the question: Can you fall in love, be a teenager, and also be a good Christian?

Simon vs. the Homo Sapiens Agenda goes to Italy in Arvin Ahmadi's newest incisive look at identity and what it means to find yourself by running away.

Eighteen-year-old Amir Azadi always knew coming out to his Muslim family would be messy–he just didn't think it would end in an airport interrogation room. But when faced with a failed relationship, bullies, and blackmail, running away to Rome is his only option. Right?

Soon, late nights with new friends and dates in the Sistine Chapel start to feel like second nature… until his old life comes knocking on his door. Now, Amir has to tell the whole truth and nothing but the truth to a US Customs officer, or risk losing his hard-won freedom.At turns uplifting and devastating, How It All Blew Up is Arvin Ahmadi's most powerful novel yet, a celebration of how life's most painful moments can live alongside the riotous, life-changing joys of discovering who you are.

New York Times bestselling author Renée Ahdieh returns with a sumptuous, sultry and romantic new series set in 19th century New Orleans where vampires hide in plain sight.
In 1872, New Orleans is a city ruled by the dead. But to seventeen-year-old Celine Rousseau, New Orleans is a safe haven after she's forced to flee her life as a dressmaker in Paris. Taken in by the sisters of the Ursuline convent in the middle of the carnival season, Celine is quickly enraptured by the vibrant city, from its music to its fancy soirées and even its danger. She becomes embroiled in the city's glitzy underworld, known as La Cour des Lions, after catching the eye of the group's enigmatic leader, Sébastien Saint Germain.
When the body of one of the girls from the convent is found in Sébastien's own lair–the second dead girl to turn up in recent weeks–Celine battles her attraction to Sébastien and suspicions about his guilt along with the shame of her own horrible secret.
After a third murder, New Orleans becomes gripped by the terror of a serial killer on the loose–one who has now set Celine in his sights. As the murderer stalks her, Celine finally takes matters into her own hands, only to find herself caught in the midst of an age-old feud between the darkest creatures of the night, where the price of forbidden love is her life.

Two friends. One fake dating scheme. What could possibly go wrong?
Frank Li has two names. There's Frank Li, his American name. Then there's Sung-Min Li, his Korean name. No one uses his Korean name, not even his parents. Frank barely speaks any Korean. He was born and raised in Southern California.
Even so, his parents still expect him to end up with a nice Korean girl–which is a problem, since Frank is finally dating the girl of his dreams: Brit Means. Brit, who is funny and nerdy just like him. Brit, who makes him laugh like no one else. Brit . . . who is white.
As Frank falls in love for the very first time, he's forced to confront the fact that while his parents sacrificed everything to raise him in the land of opportunity, their traditional expectations don't leave a lot of room for him to be a regular American teen. Desperate to be with Brit without his parents finding out, Frank turns to family friend Joy Song, who is in a similar bind. Together, they come up with a plan to help each other and keep their parents off their backs. Frank thinks he's found the solution to all his problems, but when life throws him a curveball, he's left wondering whether he ever really knew anything about love—or himself—at all.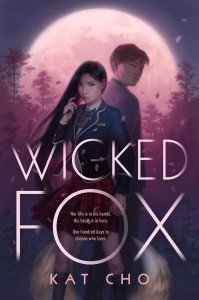 An addictive fantasy-romance set in modern-day Seoul. 

Eighteen-year-old Gu Miyoung has a secret–she's a gumiho, a nine-tailed fox who must devour the energy of men in order to survive. Because so few believe in the old tales anymore, and with so many evil men no one will miss, the modern city of Seoul is the perfect place to hide and hunt.But after feeding one full moon, Miyoung crosses paths with Jihoon, a human boy, being attacked by a goblin deep in the forest. Against her better judgment, she violates the rules of survival to rescue the boy, losing her fox bead–her gumiho soul–in the process.Jihoon knows Miyoung is more than just a beautiful girl–he saw her nine tails the night she saved his life. His grandmother used to tell him stories of the gumiho, of their power and the danger they pose to men. He's drawn to her anyway. When he finds her fox bead, he does not realize he holds her life in his hands.With murderous forces lurking in the background, Miyoung and Jihoon develop a tenuous friendship that blossoms into something more. But when a young shaman tries to reunite Miyoung with her bead, the consequences are disastrous and reignite a generations-old feud . . . forcing Miyoung to choose between her immortal life and Jihoon's.

A slick, twisty YA page-turner about the daughter of a con artist who is taken hostage in a bank heist.
Nora O'Malley's been a lot of girls. As the daughter of a con-artist who targets criminal men, she grew up as her mother's protégé. But when her mom fell for the mark instead of conning him, Nora pulled the ultimate con: escape.

For five years Nora's been playing at normal. But she needs to dust off the skills she ditched because she has three problems:

#1: Her ex walked in on her with her girlfriend. Even though they're all friends, Wes didn't know about her and Iris.#2: The morning after Wes finds them kissing, they all have to meet to deposit the fundraiser money they raised at the bank. It's a nightmare that goes from awkward to deadly, because:#3: Right after they enter the bank, two guys start robbing it.The bank robbers may be trouble, but Nora's something else entirely. They have no idea who they're really holding hostage . . .

Despite the tumor-shrinking medical miracle that has bought her a few years, Hazel has never been anything but terminal, her final chapter inscribed upon diagnosis. But when a gorgeous plot twist named Augustus Waters suddenly appears at Cancer Kid Support Group, Hazel's story is about to be completely rewritten.

Everything can change in an instant. For Mia, the day started like any other, surrounded by a loving family, an adoring boyfriend, and a bright future filled with music and infinite possibilities. What she never expected is the choice before her now. Caught between life and death, between a happy past and an uncertain future, Mia has to contemplate everything she holds dear and make a choice: to go or to stay.Heartwrenchingly raw and heartbreakingly romantic, Gayle Forman's international bestseller asks the ultimate question: What would you do if you had to choose?

Regal romance abounds in this flirty, laugh-out-loud companion novel to Prince Charming, by New York Times bestselling author Rachel Hawkins, now in paperback!
Millie Quint is devastated when she discovers that her sort-of-best friend/sort-of-girlfriend has been kissing someone else. Heartbroken and ready for a change of pace, Millie decides to apply for scholarships to boarding schools . . . the farther from Houston the better.
Soon, Millie is accepted into one of the world's most exclusive schools, located in the rolling highlands of Scotland. Here, the country is dreamy and green; the school is covered in ivy, and the students think her American-ness is adorable.
The only problem: Mille's roommate Flora is a total princess.
She's also an actual princess. Of Scotland.
At first, the girls can't stand each other, but before Millie knows it, she has another sort-of-best-friend/sort-of-girlfriend. Princess Flora could be a new chapter in her love life, but Millie knows the chances of happily-ever-afters are slim . . . after all, real life isn't a fairy tale . . . or is it?

A sweeping, multi-layered romance set in the perilous days of World Wars I and II, where gods hold the fates–and the hearts–of four mortals in their hands.
They are Hazel, James, Aubrey, and Colette. A classical pianist from London, a British would-be architect turned soldier, a Harlem-born ragtime genius in the U.S. Army, and a Belgian orphan with a gorgeous voice and a devastating past. Their story, as told by the goddess Aphrodite, who must spin the tale or face judgment on Mount Olympus, is filled with hope and heartbreak, prejudice and passion, and reveals that, though War is a formidable force, it's no match for the transcendent power of Love.
Preview time! Here's what's coming to mark your TBRs for!
The Queen's Secret by Melissa de la Cruz – Coming March 2!
From #1 bestselling author Melissa de la Cruz comes the heart-pounding follow-up to The Queen's Assassin. 

Lilac's birthright makes her the Queen of Renovia, and a forced marriage made her the Queen of Montrice. But being a ruler does not mean making the rules. For Lilac, taking the throne means giving up the opportunity to be with love of her life, the kingdom's assassin, Caledon Holt.Worse, Cal is forced to leave the castle when a horrific set of magical attacks threatens Lilac's sovereignty. Now Cal and Lilac will have to battle dark forces separately, even though being together is the only thing that's ever saved them.In the riveting conclusion to Melissa De La Cruz's fantasy duet, love and magic are at war, and victory rests on a knife's edge.
What's Not to Love by Emily Wibberley and Austin Siegemund-Broka – Coming April 20!

Real romance from a real couple! 

An academic enemies-to-lovers YA with all the nerdy drama, high school antics, and heart-pounding romance of the Netflix original series Never Have I Ever

Since high school began, Alison Sanger and Ethan Molloy have competed on almost everything. AP classes, the school paper, community service, it never ends. If Alison could avoid Ethan until graduation, she would. Except, naturally, for two over-achieving seniors with their sights on valedictorian and Harvard, they share all the same classes and extracurriculars. So when their school's principal assigns them the task of co-planning a previous class's ten-year reunion, with the promise of a recommendation for Harvard if they do, Ethan and Alison are willing to endure one more activity together if it means beating the other out of the lead. But with all this extra time spent in each other's company, their rivalry begins to feel closer to friendship. And as tension between them builds, Alison fights the growing realization that the only thing she wants more than winning . . . is Ethan.

Celebrated author Sarah Kuhn reinvents the modern fairy tale in this intensely personal yet hilarious novel of a girl whose search for a storybook ending takes her to unexpected places in both her beloved LA neighborhood and her own guarded heart.

If Rika's life seems like the beginning of a familiar fairy tale–being an orphan with two bossy cousins and working away in her aunts' business–she would be the first to reject that foolish notion. After all, she loves her family (even if her cousins were named after Disney characters), and with her biracial background, amazing judo skills and red-hot temper, she doesn't quite fit the princess mold.All that changes the instant she locks eyes with Grace Kimura, America's reigning rom-com sweetheart, during the Nikkei Week Festival. From there, Rika embarks on a madcap adventure of hope and happiness–searching for clues that Grace is her long-lost mother, exploring Little Tokyo's hidden treasures with cute actor Hank Chen, and maybe…finally finding a sense of belonging.

But fairy tales are fiction and the real world isn't so kind. Rika knows she's setting herself up for disappointment, because happy endings don't happen to girls like her. Should she walk away before she gets in even deeper, or let herself be swept away?
Perfectly Parvin by Olivia Abtahi – Coming May 18!

Fourteen-year-old Iranian-American Parvin Mohammadi sets out to win the ultimate date to homecoming in this heartfelt and outright hilarious debut.
Parvin Mohammadi has just been dumped–only days after receiving official girlfriend status. Not only is she heartbroken, she's humiliated. Enter high school heartthrob Matty Fumero, who just might be the smoking-hot cure to all her boy problems. If Parvin can get Matty to ask her to Homecoming, she's positive it will prove to herself and her ex that she's girlfriend material after all. There's just one problem: Matty is definitely too cool for bassoon-playing, frizzy-haired, Cheeto-eating Parvin. Since being herself hasn't worked for her in the past (see aforementioned dumping), she decides to start acting like the women in her favorite rom-coms. Those women aren't loud, they certainly don't cackle when they laugh, and they smile much more than they talk.
But Parvin discovers that being a rom-com dream girl is much harder than it looks. Also hard? The parent-mandated Farsi lessons. A confusing friendship with a boy who's definitely not supposed to like her. And hardest of all, the ramifications of the Muslim ban on her family in Iran. Suddenly, being herself has never been more important.
Some Girls Do by Jennifer Dugan – Coming May 18!

In this YA contemporary queer romance from the author of Hot Dog Girl, an openly gay track star falls for a closeted, bisexual teen beauty queen with a penchant for fixing up old cars.
Morgan, an elite track athlete, is forced to transfer high schools late in her senior year after it turns out being queer is against her private Catholic school's code of conduct. There, she meets Ruby, who has two hobbies: tinkering with her baby blue 1970 Ford Torino and competing in local beauty pageants, the latter to live out the dreams of her overbearing mother. The two are drawn to each other and can't deny their growing feelings. But while Morgan–out and proud, and determined to have a fresh start–doesn't want to have to keep their budding relationship a secret, Ruby isn't ready to come out yet. With each girl on a different path toward living her truth, can they go the distance together?

Rainbow Rowell meets Nick Hornby in a laugh-till-you-cry comedy about life after extinction.

Aaron Stein used to think books were miracles. But not anymore. Even though he spends his days working in his family's secondhand bookstore, the only book Aaron can bear to read is one about the demise of the dinosaurs. It's a predicament he understands all too well, now that his brother and mom are gone and his friends have deserted him, leaving Aaron and his shambolic father alone in a moldering bookstore in a crusty mountain town where no one seems to read anymore. Talk about dinosaurs!So when Aaron sees the opportunity to sell the store, he jumps at it, thinking this is the only way out. But he doesn't account for Chad, a "best life" bro with a wheelchair and way too much optimism, or the town's out-of-work lumberjacks taking on the failing shop as their pet project. And he certainly doesn't anticipate meeting Hannah, a beautiful, brave musician who might possibly be the kind of inevitable he's been waiting for.All of them will force Aaron to come to terms with what he's lost, what he's found, who he is, and who he wants to be, and show him that destruction doesn't inevitably lead to extinction; sometimes it leads to the creation of something entirely new.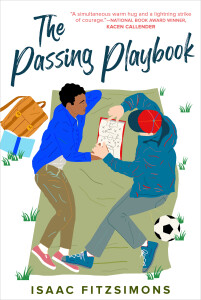 Love, Simon meets Bend It Like Beckham in this feel-good contemporary romance about a trans teen who must decide between standing up for his rights and staying stealth.

Fifteen-year-old Spencer Harris is a proud nerd, an awesome big brother, and a David Beckham in training. He's also transgender. After transitioning at his old school leads to a year of isolation and bullying, Spencer gets a fresh start at Oakley, the most liberal private school in Ohio.At Oakley, Spencer seems to have it all: more accepting classmates, a decent shot at a starting position on the boys' soccer team, great new friends, and maybe even something more than friendship with one of his teammates. The problem is, no one at Oakley knows Spencer is trans—he's passing.But when a discriminatory law forces Spencer's coach to bench him, Spencer has to make a choice: cheer his team on from the sidelines or publicly fight for his right to play, even though it would mean coming out to everyone—including the guy he's falling for.

From the author of The Best Laid Plans comes another fresh voiced, hilarious rom-com perfect for fans of Tweet Cute and The Rest of the Story.

Penny Harris just ruined her life.As one of the most popular girls in school, she's used to being invited to every party, is dating the Jordan Parker, and can't wait to rule senior year with her best friend, Olivia. But when Penny wakes up on Jordan's lawn the morning after his first-day-of-summer bash, she knows something went terribly wrong the night before.She kissed Kai Tanaka.Kai, her long-time nemesis. Kai, Olivia's boyfriend. Penny can't figure out what could have inspired her to do it–she loves Jordan and she would never hurt Olivia–but one thing's for sure: freshly dumped, and out a best friend, the idyllic summer she pictured is over.And despite the fact that Jordan seems to be seeking comfort (and a whole lot more) in Olivia, all Penny can think about is winning him back. Kai wants to save his relationship too, so they come up with a plan: convince their friends that they really do have feelings for each other. After all, no one can resist a good love story, and maybe seeing Penny and Kai together will make Jordan and Olivia change their minds.But as summer heats up, so does Penny and Kai's "relationship," and Penny starts to question whether she's truly faking it with Kai, if he's really as terrible as she always thought he was, and if the life she's fighting so hard to get back is the one she really wants. 


Perfect for fans of Morgan Matson and Ruta Sepetys, this sweet, summery romance set in Nantucket follows seventeen-year-old Abby Schoenberg as she uncovers a secret about her grandmother's life during WWII.

Seventeen-year-old Abby Schoenberg isn't exactly looking forward to the summer before her senior year. She's just broken up with her first boyfriend and her friends are all off in different, exciting directions for the next three months. Abby needs a plan–an adventure of her own. Enter: the letters.They show up one rainy day along with the rest of Abby's recently deceased grandmother's possessions. And these aren't any old letters; they're love letters. Love letters from a mystery man named Edward. Love letters from a mansion on Nantucket. Abby doesn't know much about her grandmother's past. She knows she was born in Germany and moved to the US when she was five, fleeing the Holocaust. But the details are either hazy or nonexistent; and these letters depict a life that is a bit different than the quiet one Abby knows about.And so, Abby heads to Nantucket for the summer to learn more about her grandmother and the secrets she kept. But when she meets Edward's handsome grandson, who wants to stop her from investigating, things get complicated. As Abby and Noah grow closer, the mysteries in their families deepen, and they discover that they both have to accept the burdens of their pasts if they want the kinds of futures they've always imagined.