2021 has been filled with amazing reads of all categories, and we want to make sure you haven't missed out on any! Scroll down to see our recap of some of 2021's top trending fantasy reads!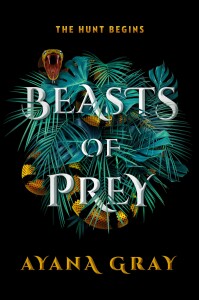 In this much-anticipated series opener, fate binds two Black teenagers together as they strike a dangerous alliance to hunt down the creature menacing their home—and uncover ancient deadly secrets.

There's no such thing as magic in the broken city of Lkossa, especially for sixteen-year-old Koffi, who holds a power within her that could only be described as magic—a power that if discovered could cost her life. Indentured to the notorious Night Zoo, Koffi knows the fearsome creatures in her care and paying off her family's debts to secure their eventual freedom can be her only focus. But the night those she loves are gravely threatened by the Zoo's cruel master, Koffi finally unleashes the power she doesn't fully understand, upending her life completely.
As the second son of a decorated hero, Ekon is all but destined to become a Son of the Six—an elite warrior—and uphold a family legacy. But on the night of his final rite of passage, Ekon encounters not only the Shetani—a vicious monster that has plagued the city for nearly a century and stalks his nightmares, but Koffi who seems to have the power to ward off the beast. Koffi's power ultimately saves Ekon's life, but his choice to let her flee dooms his hopes of becoming a warrior.
Desperate to redeem himself, Ekon vows to hunt the Shetani and end its reign of terror, but he can't do it alone. Meanwhile, Koffi believes finding the Shetani could also be the key to solving her own problems. Koffi and Ekon form a tentative alliance and together enter the Greater Jungle, a world steeped in wild, frightening magic and untold dangers. The hunt begins. But it quickly becomes unclear whether they are the hunters or the hunted.

A dark, twisty modern fairytale where three sisters discover they are not exactly all that they seem and evil things really do go bump in the night.

Iris Hollow and her two older sisters are unquestionably strange. Ever since they disappeared on a suburban street in Scotland as children only to return a month a later with no memory of what happened to them, odd, eerie occurrences seem to follow in their wake. And they're changing. First, their dark hair turned white. Then, their blue eyes slowly turned black. They have insatiable appetites yet never gain weight. People find them disturbingly intoxicating, unbearably beautiful, and inexplicably dangerous.But now, ten years later, seventeen-year-old Iris Hollow is doing all she can to fit in and graduate high school on time–something her two famously glamourous globe-trotting older sisters, Grey and Vivi, never managed to do. But when Grey goes missing without a trace, leaving behind bizarre clues as to what might have happened, Iris and Vivi are left to trace her last few days. They aren't the only ones looking for her though. As they brush against the supernatural they realize that the story they've been told about their past is unraveling and the world that returned them seemingly unharmed ten years ago, might just be calling them home.

Aurora Rising meets Top Gun, with the addition of cybernetic dragons, in this is the witty, romantic, and electrifying sci-fi novel by Andrea Tang.

Viola Park's life is over.She's gone from planning her future as a pilot-in-training to resigning herself to life on the ground. And it's all because she made one tiny, not-altogether-legal maneuver on the prestigious GAN Academy's entrance exam. It's bad enough that she didn't get into the Academy, but getting caught cheating? It's probably the worst thing Vi could imagine.Still, there are perks that come with Vi's family legacy at the school, and when Vi learns that recent pilot disappearances have left the Academy desperate for recruits, she does what any good Park would do–uses her connections to wiggle her way back in. But instead of matriculating with the regular class of future Peacekeepers, Vi is forced to enter as a probationary student, which means she'll have to work twice as hard to prove herself worthy of a place in the cockpit of one of the legendary dragon mechs.Lucky for Vi, the Academy has set up a combat tournament for all students, and the prize is a guaranteed spot in the Peacekeeper corps. Unlucky for Vi, she'll have to compete against her probie classmates, including Nicholas Lee, a mysterious boy prone to throwing Vi off her game. And as more Peacekeepers go missing, what starts out as a ploy to save her reputation turns into a fight for the future of Peacekeepers everywhere, and if Vi can't master her mech combat skills, she might not survive the battle.In this standalone set fifteen years after Prudence Wu took flight in Rebelwing, a new generation of scrappy young pilots challenge corruption, competition, and more dangerous mechs than ever, as they redefine what it means to be a revolutionary.

A thought-provoking new YA space adventure from the #1 New York Times bestselling author of Star Wars: Ahsoka. 

Set on a family-run interstellar freighter called the Harland and a mysterious remote space station, E. K. Johnston's latest is story of survival and self-determination.Pendt Harland's family sees her as a waste of food on their long-haul space cruiser when her genes reveal an undesirable mutation. But if she plays her cards right she might have a chance to do much more than survive. During a space-station layover, Pendt escapes and forms a lucky bond with the Brannick twins, the teenage heirs of the powerful family that owns the station. Against all odds, the trio hatches a long-shot scheme to take over the station and thwart the destinies they never wished for.

Set in a world on the edge of an apocalyptic flood, this heart-stoppingly romantic fantasy debut is perfect for fans of Rachel Hartman and Rae Carson. 

In a world bound for an epic flood, only a chosen few are guaranteed safe passage into the new world once the waters recede. The Kostrovian royal court will be saved, of course, along with their guards. But the fate of the court's Royal Flyers, a lauded fleet of aerial silk performers, is less certain. Hell-bent on survival, Principal Flyer, Natasha Koskinen, will do anything to save the flyers, who are the only family she's ever known. Even if "anything" means molding herself into the type of girl who could be courted by Prince Nikolai. But unbeknownst to Natasha, her newest recruit, Ella Neves, is driven less by her desire to survive the floods than her thirst for revenge. And Ella's mission could put everything Natasha has worked for in peril.As the oceans rise, so too does an undeniable spark between the two flyers. With the end of the world looming, and dark secrets about the Kostrovian court coming to light, Ella and Natasha can either give in to despair . . . or find a new reason to live.
In this sequel to The Kinder Poison—which People magazine proclaimed a "delicious high-stakes adventure"—the magical kingdom of Orkena is on the brink of war, and the only person who can save it is Zahru, the girl they once doomed to death.
After surviving the Crossing, Zahru has sworn off adventures. While Crown Prince Jet navigates the looming threat of war, she's content to simply figure out what the future holds for them. But they're dealt a devastating blow when prince Kasta returns with a shocking claim: he's the true winner of the Crossing and the rightful heir, and he bears the gods' mark as proof. Even more surprising—he's not the only one.
Somehow, Zahru possesses the very same mark, giving her equal right to the throne. The last thing she wants is to rule beside her would-be executioner, but she can't let Orkena fall into his merciless hands. So Zahru, Jet, and their allies must race against the clock to find a way to stop Kasta, because once he's crowned, there's no telling what horrors he'll unleash to win the war.
Zahru will do whatever it takes to keep Kasta from taking the throne…but to stop a villain, is she willing to become one herself?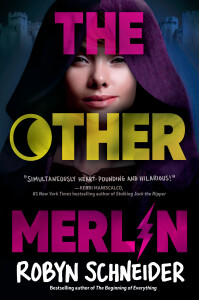 Channeling the modern humor of A Knight's Tale, bestselling author Robyn Schneider creates a Camelot that becomes the ultimate teen rom-com hotspot in this ultra-fresh take on the Arthurian legend.
For as long as she could remember, all Emry wanted was to be a great magician like her father, the magnificent Merlin. As a kid, she fought to be included in his magic lessons for her twin brother, Emmet, and easily outshone him with each spell she cast. But after her father's disappearance several years ago, Emry has been feeling a little lost. Fate soon appears in the form of a royal messenger, summoning Emmet to court to serve as Prince Arthur's right-hand wizard. With Emmett indisposed thanks to a bad spell, Emry has to disguise herself as a teen boy and pretend to be her brother at the castle until they're able to switch.
Training as a wizard is everything Emry hoped it would be, except working so closely with the unbearably hot Arthur is a growing danger. They soon share adventures and a connection that can't be denied, but Emry's secret is a crime punishable by death. When royal scandals involving Lancelot, Guinevere, and Gawain threaten to reveal her truth, Emry must decide whether to stay and risk everything for a love borne out of deceit, or leave and never fulfill her potential to be Camelot's greatest magician.
Curses by Lish McBride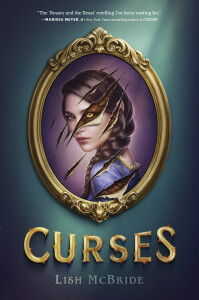 Merit Cravan refused to fulfill her obligation to marry a prince, leading to a fairy godling's curse. She will be forced to live as a beast forever, unless she agrees to marry a man of her mother's choosing before her eighteenth birthday.
Tevin Dumont has always been a pawn in his family's cons. The prettiest boy in a big family, his job is to tempt naïve rich girls to abandon their engagements, unless their parents agree to pay him off. But after his mother runs afoul of the beast, she decides to trade Tevin for her own freedom.
Now, Tevin and Merit have agreed that he can pay off his mother's debt by using his con-artist skills to help Merit find the best match . . . but what if the best match is Tevin himself?

Game of Thrones meets An Ember in the Ashes in the second book in this action-packed fantasy from Andrea Robertson, the internationally bestselling author of the Nightshade series.
Ara has taken up her mantle as the Loresmith–but her journey is far from over. After suffering betrayals and losses, Ara, Nimhea, Lahvja, and Teth must try to come together and find the Loreknights across the kingdom. The Loreknights are their only hope in overthrowing the evil Vokkans and putting Nimhea on the throne for good. But their journey will put Ara and her companions in grave danger–from the endless pursuit of the Vokkans to perilous encounters with the gods, and the near impossible trials they face along the way–will they be able to survive long enough to help the rebellion?
And through it all the Vokkans are expanding their reach throughout Saetlund, putting everyone Ara and her friends love at risk. Only Ara can forge a way forward, take up her powers, and fight to change the world–no matter what it costs.
From internationally bestselling author Andrea Roberston comes the second book in a gorgeously written new fantasy series perfect for readers of Leigh Bardugo's Grishaverse or Sabaa Tahir's An Ember in the Ashes series.