2021 has been filled with amazing reads of all categories, and we want to make sure you haven't missed out on any! Scroll down to see our recap of some of 2021's top trending romance reads!
In this YA contemporary queer romance from the author of Hot Dog Girl, an openly gay track star falls for a closeted, bisexual teen beauty queen with a penchant for fixing up old cars.
Morgan, an elite track athlete, is forced to transfer high schools late in her senior year after it turns out being queer is against her private Catholic school's code of conduct. There, she meets Ruby, who has two hobbies: tinkering with her baby blue 1970 Ford Torino and competing in local beauty pageants, the latter to live out the dreams of her overbearing mother. The two are drawn to each other and can't deny their growing feelings. But while Morgan–out and proud, and determined to have a fresh start–doesn't want to have to keep their budding relationship a secret, Ruby isn't ready to come out yet. With each girl on a different path toward living her truth, can they go the distance together?

Celebrated author Sarah Kuhn reinvents the modern fairy tale in this intensely personal yet hilarious novel of a girl whose search for a storybook ending takes her to unexpected places in both her beloved LA neighborhood and her own guarded heart. 

If Rika's life seems like the beginning of a familiar fairy tale–being an orphan with two bossy cousins and working away in her aunts' business–she would be the first to reject that foolish notion. After all, she loves her family (even if her cousins were named after Disney characters), and with her biracial background, amazing judo skills and red-hot temper, she doesn't quite fit the princess mold.All that changes the instant she locks eyes with Grace Kimura, America's reigning rom-com sweetheart, during the Nikkei Week Festival. From there, Rika embarks on a madcap adventure of hope and happiness–searching for clues about her long-lost mother, exploring Little Tokyo's hidden treasures with a cute actor, and maybe…finally finding a sense of belonging.But fairy tales are fiction and the real world isn't so kind. Rika knows she's setting herself up for disappointment, because happy endings don't happen to girls like her. Should she walk away before she gets in even deeper, or let herself be swept away?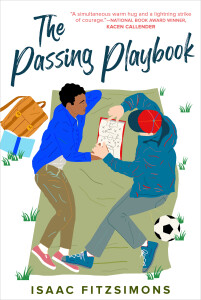 Love, Simon meets Bend It Like Beckham in this feel-good contemporary romance about a trans athlete who must decide between fighting for his right to play and staying stealth.
Fifteen-year-old Spencer Harris is a proud nerd, an awesome big brother, and a David Beckham in training. He's also transgender. After transitioning at his old school leads to a year of isolation and bullying, Spencer gets a fresh start at Oakley, the most liberal private school in Ohio.
At Oakley, Spencer seems to have it all: more accepting classmates, a decent shot at a starting position on the boys' soccer team, great new friends, and maybe even something more than friendship with one of his teammates. The problem is, no one at Oakley knows Spencer is trans—he's passing.
But when a discriminatory law forces Spencer's coach to bench him, Spencer has to make a choice: cheer his team on from the sidelines or publicly fight for his right to play, even though it would mean coming out to everyone—including the guy he's falling for.

For fans of Jenny Han, Jane Austen, and The Great British Baking Show, A Taste for Love, is a delicious rom com about first love, familial expectations, and making the perfect bao.

To her friends, high school senior Liza Yang is nearly perfect. Smart, kind, and pretty, she dreams big and never shies away from a challenge. But to her mom, Liza is anything but. Compared to her older sister Jeannie, Liza is stubborn, rebellious, and worst of all, determined to push back against all of Mrs. Yang's traditional values, especially when it comes to dating.The one thing mother and daughter do agree on is their love of baking. Mrs. Yang is the owner of Houston's popular Yin & Yang Bakery. With college just around the corner, Liza agrees to help out at the bakery's annual junior competition to prove to her mom that she's more than her rebellious tendencies once and for all. But when Liza arrives on the first day of the bake-off, she realizes there's a catch: all of the contestants are young Asian American men her mother has handpicked for Liza to date.The bachelorette situation Liza has found herself in is made even worse when she happens to be grudgingly attracted to one of the contestants; the stoic, impenetrable, annoyingly hot James Wong. As she battles against her feelings for James, and for her mother's approval, Liza begins to realize there's no tried and true recipe for love.
What's Not to Love by Austin Siegemund-Broka & Emily Wibberley 

Real romance from a real couple!An academic enemies-to-lovers YA with all the nerdy drama, high school antics, and heartpounding romance of the Netflix original series Never Have I Ever.

Since high school began, Alison Sanger and Ethan Molloy have competed on almost everything. AP classes, the school paper, community service, it never ends. If Alison could avoid Ethan until graduation, she would. Except, naturally, for two over-achieving seniors with their sights on valedictorian and Harvard, they share all the same classes and extracurriculars. So when their school's principal assigns them the task of co-planning a previous class's ten-year reunion, with the promise of a recommendation for Harvard if they do, Ethan and Alison are willing to endure one more activity together if it means beating the other out of the lead. But with all this extra time spent in each other's company, their rivalry begins to feel closer to friendship. And as tension between them builds, Alison fights the growing realization that the only thing she wants more than winning . . . is Ethan.

Fourteen-year-old Iranian-American Parvin Mohammadi sets out to win the ultimate date to homecoming in this heartfelt and outright hilarious debut. 

Parvin has just had her heart broken when she meets the cutest boy at her new high school, Matty Fumero–with an emphasis on fumero, because he might be the smoking hot cure to all of her boy troubles. If Parvin can get Matty to ask her to homecoming, she's positive it will erase all the awful and embarrassing feelings He Who Will Not Be Named left her with after the summer. The only problem is Matty is definitely too cool for bassoon-playing, frizzy-haired, Cheeto-eating Parvin. Since being herself has not worked for her in the past (see aforementioned relationship), she decides that to be the girl who finally gets the guy, she should start acting like the women in her favorite rom-coms. Those girls aren't loud, they certainly don't cackle when they laugh, and they smile much more than they talk. Easy enough, right?But as Parvin struggles through her parent-mandated Farsi lessons on the weekends, a budding friendship with a boy she can't help but be her unfiltered self with, and dealing with the ramifications of the Muslim Ban on her family in Iran, she realizes that being herself might just be the perfect thing after all.

Perfect for fans of Morgan Matson and Ruta Sepetys, this sweet, summery romance set in Nantucket follows seventeen-year-old Abby Schoenberg as she uncovers a secret about her grandmother's life during WWII.

Seventeen-year-old Abby Schoenberg isn't exactly looking forward to the summer before her senior year. She's just broken up with her first boyfriend and her friends are all off in different, exciting directions for the next three months. Abby needs a plan–an adventure of her own. Enter: the letters.They show up one rainy day along with the rest of Abby's recently deceased grandmother's possessions. And these aren't any old letters; they're love letters. Love letters from a mystery man named Edward. Love letters from a mansion on Nantucket. Abby doesn't know much about her grandmother's past. She knows she was born in Germany and moved to the US when she was five, fleeing the Holocaust. But the details are either hazy or nonexistent; and these letters depict a life that is a bit different than the quiet one Abby knows about.And so, Abby heads to Nantucket for the summer to learn more about her grandmother and the secrets she kept. But when she meets Edward's handsome grandson, who wants to stop her from investigating, things get complicated. As Abby and Noah grow closer, the mysteries in their families deepen, and they discover that they both have to accept the burdens of their pasts if they want the kinds of futures they've always imagined.
Shipped by Meredith Tate 

Can two IRL enemies find their happily ever after online? 

Stella Greene and Wesley Clarke are Gene Connolly Memorial High School's biggest rivals. While the two have been battling it out for top student, it's a race to the bottom when it comes to snide comments and pulling the dirtiest prank. For years, Stella and Wes have been the villain in each other's story, and now it's all-out war.And there is no bigger battle than the one for valedictorian, and more specifically, the coveted valedictorian scholarship.But Stella and Wes have more in common than they think. Both are huge fans of Warship Seven, a popular sci-fi TV drama with a dedicated online following, and the two start chatting under aliases–without a clue that their rival is just beyond the screen. They realize that they're both attending SciCon this year, so they plan to dress in their best cosplay and finally meet IRL.While tensions at school are rising and SciCon inches closer and closer, the enemy lines between Stella and Wes blur when a class project shows them they might understand one another better than anyone else–and not just in cosplay.From the author of The Last Confession of Autumn Casterly comes a heartfelt story about rivalry, friendships, and defying preconceived notions–even the ones about yourself.

From the author of The Best Laid Plans comes another fresh voiced, hilarious rom-com perfect for fans of Tweet Cute and The Rest of the Story. 

Penny Harris just ruined her life.

As one of the most popular girls in school, she's used to being invited to every party, is dating the Jordan Parker, and can't wait to rule senior year with her best friend, Olivia. But when Penny wakes up on Jordan's lawn the morning after his first-day-of-summer bash, she knows something went terribly wrong the night before.She kissed Kai Tanaka.Kai, her long-time nemesis. Kai, Olivia's boyfriend. Penny can't figure out what could have inspired her to do it–she loves Jordan and she would never hurt Olivia–but one thing's for sure: freshly dumped, and out a best friend, the idyllic summer she pictured is over.And despite the fact that Jordan seems to be seeking comfort (and a whole lot more) in Olivia, all Penny can think about is winning him back. Kai wants to save his relationship too, so they come up with a plan: convince their friends that they really do have feelings for each other. After all, no one can resist a good love story, and maybe seeing Penny and Kai together will make Jordan and Olivia change their minds.But as summer heats up, so does Penny and Kai's "relationship," and Penny starts to question whether she's truly faking it with Kai, if he's really as terrible as she always thought he was, and if the life she's fighting so hard to get back is the one she really wants.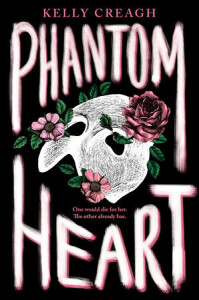 A steamy YA romance inspired by Gaston Leroux's classic The Phantom of the Opera
Seventeen-year-old Stephanie Armand doesn't believe in ghosts or spirits. Despite her six-year-old sister insisting a masked figure is hiding in her closet, and the rumors at school, Stephanie isn't convinced her father's latest renovation project–a crumbling Victorian mansion–houses the soul of a monster. So when the very charming (and paranormal-obsessed) Lucas Cheney takes an interest in both Stephanie and her notorious home, Moldavia, the supernatural and romantic activity escalates to an all-time high. But then there's Erik– the dashing British boy, seemingly from another era, who's taken up residence in Stephanie's nightly dreams. A boy who may have something to do with the man in the mask, and the strange occurrences taking place at Moldavia.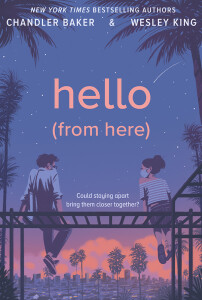 A witty and thought-provoking YA love story set during the COVID-19 quarantine, written by two NYT bestselling authors, with shades of Five Feet Apart and Anna and the French Kiss.
Maxine and Jonah bump into each other in the canned goods aisle of the grocery store just as the state of California is going into lockdown, when everything changes completely. Could there be a worse time to meet? Max's part-time job at a supermarket is about to transform into a hellish gauntlet. Jonah's preexisting anxiety is about to become an epic daily struggle. As Max, Jonah, and their friends live together but apart through hijinks, humanity, and heartbreak, Hello (From Here) cuts across urgent matters much bigger than a teenage crush. Differences of class, privilege, mental health, and sacrifice are thrown into stark relief by the profound and personal stresses of the COVID-19 pandemic. As thoughtful, probing, and informed as it is buoyant, romantic, and funny, Hello (From Here) looks at the first two months of the quarantine and adds falling hopelessly in love to the mess.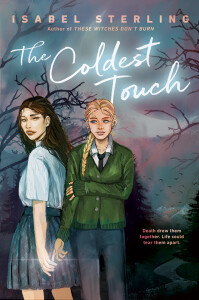 From the author of These Witches Don't Burn comes another paranormal romance for fans of Richelle Mead and Stephenie Meyer.
Elise Beaumont is cursed. With every touch, she experiences exactly how her loved ones will die. And after her brother's death—a death she predicted but was unable to prevent—Elise is desperate to get rid of her terrible gift, no matter the cost.
Claire Montgomery also has a unique relationship with death, mostly because she's already dead. Technically, anyway. Claire is a vampire, and she's been assigned by the Veil to help Elise master her rare Death Oracle powers.
At first, Elise is reluctant to work with a vampire, but when she predicts a teacher's imminent murder, she's determined to stop the violent death, even if it means sacrificing her own future to secure Claire's help.
The trouble is, Claire and Elise aren't the only paranormals in town—a killer is stalking the streets, and Claire can't seem to shake the pull she feels toward Elise, a romance that could upend the Veil's mission. But as Elise and Claire grow closer, Elise begins to wonder—can she really trust someone tasked with securing her loyalty? Someone who could so easily kill her? Someone who might hold the key to unraveling her brother's mysterious death?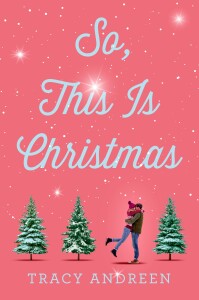 Sarah Dessen meets Let It Snow in this new YA Christmas romance!
When Finley Brown returned to her hometown of Christmas, Oklahoma, from boarding school, she expected to find it just as she left it. Christmas hasn't changed much in her sixteen years. But instead she returns to find that her best friend is dating her ex-boyfriend, her parents have separated, and her archnemesis got a job working at her grandmother's inn. And she certainly didn't expect to find the boy she may or may not have tricked into believing that Christmas was an idyllic holiday paradise on her grandmother's doorstep. It's up to Finley to make sure he gets the Christmas he was promised. This is Finley's Christmas. It's about home and family and friends and finding her place, and along the way she also finds the best Christmas present of all: love.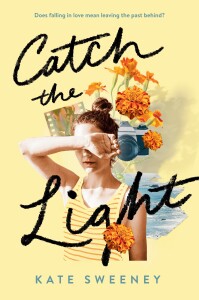 A love story perfect for fans of Nina LaCour and Jandy Nelson about a girl who moves cross country and finds herself falling for someone new who throws her whole life out of order.
Nine months after the death of her father, Marigold is forced to pick up and move from her home in sunny Los Angeles all the way across the country to rural upstate New York. According to her mom, living with her aunt in a big old house in the woods is the fresh start Marigold and her little sister need. But Mary aches for the things she's leaving behind—her best friend, her older sister, her now-long-distance boyfriend, and the senior year that felt like her only chance at making things feel normal again.
On top of everything, Mary has a troubling secret: she's starting to forget her dad. The void he's left in her memory is quickly getting filled with bonfires, house parties, and hours in the darkroom with Jesse, a fellow photographer and kindred spirit whom she can't stop thinking about. As the beauty of Mary's new world begins to sink in and her connection with Jesse grows stronger, she feels caught between her old life and her new one.
When the two finally come crashing together, Mary will have to decide what she really wants and come to terms with the ways that the loss of her dad has changed who she is. She can't hold on to her past forever, but maybe it can be the foundation for something even brighter.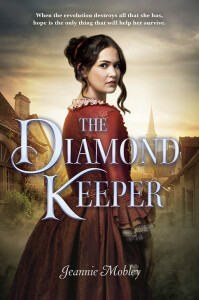 A thrilling tale of the elusive Hope Diamond's journey across Europe during the French Revolution, with gorgeous, absorbing writing from Jeannie Mobley! 

Eighteen-year-old Claudie Durand's future is planned. She'll take over the family inn, watch her much prettier younger sister, Mathilde, married off to the butcher's son, and live out her days alone, without the hope of finding a love of her own. Her mother ran off to the cloister when she was young, and her gruff, abusive father has deemed her unmarriageable, a nuisance, and only good for hard labor.But outside their small village in Brittany, a revolution is brewing. When the Army of the Republic seizes their town, and Claudie finds herself at the center of the conspiracy, she and Mathilde must flee their sheltered life and take up a cause that, up till now, had always seemed like a distant conflict. As the sisters carry out a dangerous mission for the resistance: delivering a precious item to the mysterious Rooster of Rennes–Claudie's conscience is torn between the longing to return to her predictable, lonely existence and the desire to carve out a new future, reaching for the life–and love–she never dared dream of but knew deep down she truly deserved.
Mazie by Melanie Crowder

An eighteen-year-old aspiring actress trades in starry Nebraska skies for the bright lights of 1950s Broadway in this show-stopping novel from award-winning author Melanie Crowder.

Mazie has always longed to be on Broadway. But growing up in her small Nebraska town, that always seemed like an impossible dream. So when an opportunity presents itself to spend six weeks auditioning, Mazie jumps at the chance, leaving behind everything–and everyone–she's ever known.New York City is a shock to the senses: thrilling, but lonely. Auditions are brutal. Mazie's homesick and she misses the boyfriend whose heart she broke when she left. Nothing is as she expected.With money running out, and faced with too many rejections to count, Mazie is more determined than ever to land a role. But when she discovers that booking a job might mean losing sight of herself, everything Mazie always thought she wanted is called into question. Mazie is the story of a girl caught between two lives–and two loves–as she navigates who she is, what matters most, and the cost of following her dream.